Happy Friday!!!
We couldn't let you go off for the weekend without a special treat – it's time for Our Wedding Story!
Yemi & Temi's Lagos wedding was oh so much fun and you'll feel like a part of it, via the vivid Jide Odukoya Photography and the couple's charming love and proposal story.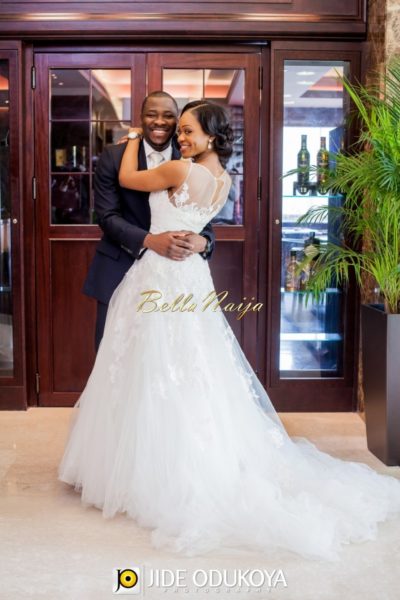 Pre-Wedding Photos: Adebayo Deru

The Meeting!
from the Bride
We met in July 2011 through a friend Tosin who basically match-made us. She had asked if it was okay to give my number to a friend – Temi to which I agreed. On the same day Temi called and we had our first long chat. We kept in touch mainly over the phone until September when I moved back to London from Bristol after I finished my MSc. The first time we met face to face was in Brighton. It was a beautiful day, one of the warmest days that year. Guess he thought a place like a beach would be a proper location to meet him and with some of his friends on our "supposed" date. In my mind I thought the 'date' was all about us. Yeah right ☺ (how I stayed on still marvels me). As if that wasn't enough, he miscalculated the travel time from London to Brighton. He had told me it would take 30 minutes even though the journey took close to 2hrs (slow train). As you can imagine, I was not a happy bunny at that point. I eventually got there and saw Temi (with his friends) which got me more upset, quickly he apologized for his miscalculation which I later found out was a ploy to deceive me into travelling to Brighton.
Thankfully the first meet was decent, got to know him a bit; we enjoyed watching the sun set that day around 9:30pm before we all departed. And as they always say … The rest is history!
What Makes your Love Special?
Passion & Partnership
It's amazing the way we are because I know it sounds cheesy but we are actually best friends. We have so much fun together. We absolutely complete each other. We are comfortable with each other but there's still so much passion.
The Proposal
Bride – Yemi
We decided to travel to Cardiff, Wales on the 15th of December 2012 as I wanted to spend some time with my dearest sister. Unfortunately, as we travelled down to Wales we both realized we had picked up the Noro Virus. Which meant the 3 hours journey to Cardiff was really unpleasant to say the least. On our way, we passed through a few landmarks but most notably was the Celtic Manor Resort in Newport as I remember saying 'this is gorgeous' and mentioned it would be a nice place to spend a weekend sometime in the future. We got to Cardiff safely but not in the best of state, by this time we were both really ill. We spent as much time as we could with my Sister and decided to go rest in a nice place we had booked in Cardiff.
Groom – Temi
The next day we woke up early feeling a lot better from the day before, had a Spa session in the morning then breakfast, after which we set out to hang out with Yemi's sister and her bloke. The plan was to hang out with them and then travel back to London in the evening. By 4pm we set out for London, on the way I suggested that we stop in Celtic Manor and have a look around to which Yemi gladly said Yes.
As we got nearer to Celtic Manor, Yemi thought the idea of just going in to look around didn't seem right. I insisted that it would be fine and if we ran into any problems we could always get a room last minute.
Yemi – We got to the hotel entrance and the parking valet asked if we had luggage and immediately I said 'No', Temi spoke over me and said yes and he opened the trunk of the car. I was surprised as I was sure we didn't have a reservation. We walked in and then Temi goes straight to the check in desk. By this point I was wondering what was going on. I walked up to him and he said not to worry that he was just making some enquiries.
Next thing I heard the lady at the desk ask what name the reservation was under and he boldly mentioned his name and then she responded oh we do have everything sorted for you. At this very point everything started moving quickly. We were escorted to our suite, which was well decorated with flowers and champagne, the concierge informed me that a Spa session had been booked for me had to go fairly quickly and that we had a dinner reservation for 8pm. I went for the second Spa session for the day after which I dressed up for dinner.
During dinner, Temi started asking weird'ish' questions like "are we okay, am I happy" etc… In my mind I was wondering what's up with 1000 questions (Lol). The starter and main meal came a bit late, and then came time for dessert. At this point I was saying can we finish up so we could go back to the room to watch Homeland.
Not long the chef came along to ask if everything was alright and to take order for dessert and she said she'd be back in 10 minutes. Five minutes later the chef comes back in with 2 big dessert plates covered with cloches. She opens Temi's plate first and then mine. In my plate was the most gorgeous ring ever (#ringoflife), I look at him and he's down on his knees. I honestly cannot remember what he was saying but I could see his mouth moving so I knew he was talking. I do remember saying Yes! though after 30 seconds.
Advice for Brides & Grooms –
Try not to focus on details. Remember it's all about you so Smile, Smile and Smile and have a blast!
***
The traditional wedding was, according to Yemi, "an amazing time. The traditional was really emotional and I cried a lot. It hit me then that I was marrying my best friend, lover and everything. I have never had so much emotion running through me… The white wedding "was totally different. For me it was more of a celebration. Dancing with hubby, family and friends. Truly the best days of my life 🙂 " 
The beautiful bride looked regal in her coral beads then changed into Yoruba traditional attire of aso-oke to match her dashing groom. It was also an emotional experience for the groom Temi, who shared, "Overall the wedding experience was truly fantastic for me. I know this is sounds like a cliché but those two days were truly the happiest days of my life. I had two different feelings on the days; the engagement day for me was a very emotional day. Not sure why exactly, maybe it was because of the way the MC / Alaga managed the whole ceremony or seeing my lovely wife walk into the room and looking absolutely stunning, or seeing her very emotional and crying in the arms of her parents or maybe I was just overwhelmed with Joy."
For both the bride – dressed in a tulle and lace Pronovias ball gown – and groom, the white wedding was full of FUN moments, they danced hard, 'Lagos Party' style. Temi says of his special day – "on the white wedding day the feeling was totally different. I was extremely happy. The service, management of the whole event was great, seeing around 700 people coming to celebrate with us was just brilliant. All I was left with was to make the party rock. I don't think that was a problem. #partyhard."
BellaNaija Weddings wishes Yemi & Temi a blessed and beautiful home.
***
White Wedding
~ Photography by Jide Odukoya Photography
Traditional Wedding
~ Photography by Jide Odukoya Photography
***
Photography
Pre-Wedding Photos: Adebayo Deru | instagram.com/adebayoderu
Wedding Photography – Traditional & White: Jide Odukoya Photography | jideodukoya.com/blog | instagram.com/jideodukoyaphotography | info (at) jideodukoya.com | (+234) 803 399 9286
Wedding Details
Trad Wedding Date: November 29 2013
White Wedding Date: November 30 2013
Church: RCCG, City of David
Reception: Yard 158, Oregun, Lagos
Wedding Attire
Aso Ebi for White Wedding: Pink and Silver – NHN Designs- Nky Harry Ngonadi, VI
Traditional Bride Aso Ebi: Coral and Gold – NHN Designs- Nky Harry Ngonadi, VI
Traditional Groom Aso Ebi: Purple and Gold – Elect, GRA, Ikeja
Traditional Wedding Accessories: Aso Oke – Bisbod
Slippers: Davina
Clutch: Biba
Bridal Gown: Durban – Pronovias. 2nd Dress: Jovani
Wedding Shoes: Nine West
Maid of Honour: April by Kunbi
Bridesmaids: Angel Dresses
Little Brides: Debenhams
Groomsmen Suits & Ties: TM Lewin
Groom's Tux: Gieves and Hawkes, Saville Row
Hair and Makeup 
Hair: Patrick of Patrick's
Makeup: BM|Pro
Engagement Makeup/Gele: Tolu of Ewar Makeovers
Vendors
Wedding Planner: 2706 Events
Cakes: Cakes by Tosan on both days
Food: Exclusive Chefs
Small Chops: Keem Chops
Dessert: Helado Delicia/ Sweet Cravings
Cocktails: Elles Icebox/ Dainty Cocktails
Fish n Chips: Grind Grill
Sharwama: Sam Sharwama
Drinks: Spronx
Favors: Ikea, Uk, The Body Shop.
Music
Band Reception: Akin Ajayi
Band Traditional: AKA
DJ: DJ Dino
Flowers: Newton and David
Stationery: Wedding Card Company
Reception Décor: Newton and David
Engagement Décor: Divine Events
Security: GS Security
MC: Grand Komanda
Drivers' Food: Dainty Touch
________________________________________________________________________________
We love weddings as much as you do – get in touch for inquiries, inspiration & more!
E-mail: weddings (at) bellanaija.com | E-mail for #AsoEbiBella: asoebibella (at) gmail.com