Thanks for following through with events for the Social Media Week 2014 (SMWLagos). With great excitement, we bring to you a few events from the Social Media Week FINALE highlighted below.
Follow @smwlagos for updates with #SMWLagos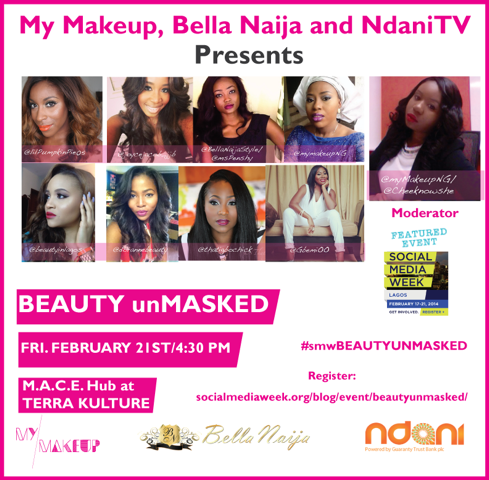 This week, over 30,000 African tech and new media enthusiasts will converge on the continent's most populous city, Lagos. Young African women like Jackie Aina who is known on YouTube as LilPumpkinPie05, will join a clan of African beauty bloggers, vloggers and influences at this year's event.
Jackie will be participating on a panel discussing future trends in the Nigerian beauty industry with BellaNaija's Beauty Editor, Jennifer Obiuwevbi; Celebrity Makeup Artist, Joyce Jacob; Beat 99.9 FM OAP, Gbemi Olateru-Olagbegi; Celebrity Makeup Artist, Theodora Mogo and beauty bloggers Ezinne Alfa of Beauty in Lagos and Chidimma Umeh of ThatIgboChick.
Bukky Kinoshi and Temitayo Sojebe, Co-Founders of My Makeup & Co. organized this year's panel.The goal of this discussion is to empower Nigerian women by discussing how Nigerian social media stars are redefining beauty and determining trends while promoting self-acceptance. The panel will also highlight current misconceptions around "beauty" in Nigeria and the Diaspora.
Lastly, it will explore how content curators can determine trends on social media while incorporating tradition and culture.
Also, My Makeup will be hosting a makeup masterclass with LA based Makeup Artist, Jackie Aina on Saturday 22nd February 2014  by 12PM at White Space Lagos, 58 Raymond Njoku, Ikoyi, Lagos. To register, please visit: http://www.beautyrevolutionng.com/shop/beauty-unmasked-masterclass-a/
This event is proudly sponsored by My Makeup, BellaNaija & Ndani TV.
Date: Friday 21st February 2014
Time: 4:30PM
Venue: M.A.C.E Hub, Terra Kulture, Plot 1376, Tiamiyu Savage, Victoria Island, Lagos.
To register for the event please visit http://socialmediaweek.org/blog/event/beautyunmasked/
The Power Of Advocacy Using Social Media
Venue: #SMWeperienceHub @ FourPoints Hotel , Oniru Chieftaincy Estate Plot 9/10, Block 2 Lekki, Lagos
Time: 10:30AM-11:30AM
Twitter Conversation Hashtag: #smwadvocacy
With the recent happenings around the issue of HIV/AIDS, Rape, Violence against Women etc; the session will focus on the important role social media plays in drawing attention to a cause. It is designed to inspire change by sharing real life experiences and best practices from actors on the field who have successfully advocated for a cause and drawn attention to a socioeconomic issue, using social media.
Panelists: Segun Ogunsanya CEO, Airtel, Gbenga Sesan, CEO, Paradigm Initiative, Dr. Joe Okei-Odumakin, CEO, Women Arise For Change, Mo' Abudu, CEO, EbonyLife TV, Aigboje Aig-Imoukhuede, Chairman, Friends Africa.
The Y! #Tech100 Networking
Venue: #smwExperience Hub at FourPoints Hotel, Oniru Estate, Lekki
Time: 3:00PM-4:00PM
Twitter Conversation Hashtag: #smwYTech100
YNaija.com presents Nigeria's #Tech100. The #YTech100 is a cocktail and networking event honoring the brightest minds in Nigeria's new technology eco-system – spotlighting the visionaries at SPARK, the Co-Creation Hub and other spaces; as well as influencers, policy makers and others. Spotlighting the #YTech100 will go along with a discussion around Nigeria's Technology Space: Bubble or Eco-System. The event will be followed by a cocktail session and a little bit of dance, we help you unwind the Lagos stress and end your SMW on a high note!
Online Marketing For Smart Entrepreneurs
Venue: FourPoints Hotel, Lekki
Time: 12:00PM-1:00PM
Twitter Conversation Hashtag: #SMWenterprise
Selling in the age of digital and social media is simple-complex, and only people selling can tell. Social Media has empowered businesses to connect with their customers and prospective customers, prospect and extend into new markets and export Africa's potential and products into the global public square.
#smwBeautyAfrica The Future Of Make-Up & Beauty: Re-Imagining African Beauty Through Social Media
Venue: #SMWmaceHub @ Terra Kulture, Plot 1376, Tiamiyu Savage, Victoria Island, Lagos
Time: 1:30PM-2:30PM
Twitter Conversation Hashtag: #smwBEAUTYAFRICA
The Hair & Beauty sector in Africa is set to become the biggest in the world. The world is looking at Africa, and Nigeria in particular. We will explore how the use of social media has changed the dynamics for Nigeria's beauty entrepreneurs.Eryca Freemantle, Yets Asika, Irene Syrimis, discuss how social media is helping to define and change the Nigerian hair and beauty industries and the impending launch of the Nigerian Hair & Beauty Expo! You will be inspired and proud to hear of Nigeria best kept secret for its Beauty Industry.
#SMWLagos Red Bull Official Closing VIP Party
Venue: SMWhq @ Volkswagen 179 Akin Adesola Street, Victoria Island, Lagos
Time: 7:00PM-10:00PM
Twitter Conversation Hashtag: #smwREDBULL
To mark the official close of Social Media Week 2014 Lagos organizers AFRIKA21 and Dragon Africa together with Red Bull host the Official Closing VIP Party Powered by Red Bull! The Closing Party is by invitation only, however, if you wish to attend there are a limited number of Insider Passes still available, which grant you access to the official Closing VIP event. Speakers Include: DJ Jimmy Jatt
How To Reach Africa's Promising Gen Y With Art
Venue: #SMWmaceHub @ Terra Kulture, Plot 1376, Tiamiyu Savage, Victoria Island, Lagos
Time: 10:30AM-11:30AM
Twitter Conversation Hashtag: #SMW4ART
The event presents a framework and insight on how Africa's innovative organizations can foster a connected Africa through artist collaborations, which enable brand appeal and loyalty among Africa's primarily young demographic, passion for the continent, and a stronger connection to our societies. Speakers Include: Sharon Obuobi, Exec. Dir. African & Afro-Diasporan Art Talks (AADAT)
Freelance Friday SMW Edition
Venue: The HotHouse 34, Allen Avenue (KFC Building, 4th floor), Ikeja, Lagos.
Time: 9:00AM-11:30AM
Twitter Conversation Hashtag: #smwFreelanceFriday
A special Social Media Week edition of the monthly Freelance Friday clinics. Freelance Fridays are a series of free training clinics for freelancers and solo entrepreneurs in the Nigerian creative industries. Running since December 2012, the clinics feature 2 morning sessions where respected and successful industry leaders and business people share their knowledge with the freelancers on a wide range of issues dealing with entrepreneurship.
Speakers Include: Ayo Rotimi, Exec. Dir. Obvious Media; Tolu Onile-Ere, MD. PlayHouse Communication Ltd.
#smwExperience: The Innovators Bankers Breakfast Presented By Stanbic IBTC
Venue: #smwExperience Hub @ FourPoints Hotel, Lekki. Lagos
Time: 8:30AM- 10:00AM
Twitter Conversatiion Hashtag: #smwSTANBIC
The Innovators Breakfast Series is a unique opportunity to fill your belly and your mind! Have you ever wanted to have breakfast with a CEO? Well now is your chance. Each morning registered attendees are invited to join us at #smwExperience Hub at Four Points Sheraton for breakfast and a keynote conversation by a handpicked local business & technology leader.Hear how they've steered their companies