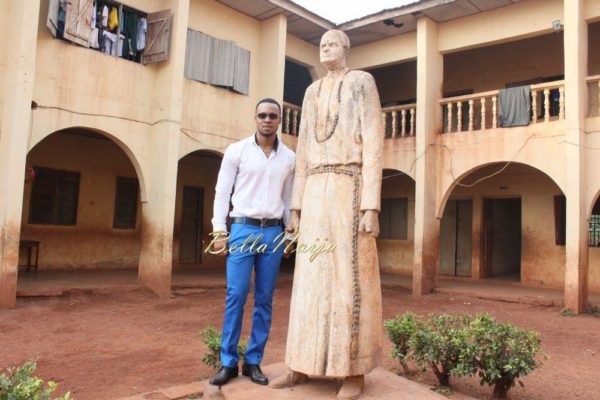 BN brought you first photos from Flavour's visit to his secondary school – CIC Enugu. In case you missed it, click here.
Now all the scoop on his visit has been released.
On Monday 3rd February 2014. the high life fusion music superstar donated musical equipment to his Alma mater – College of Immaculate Conception (CIC) Enugu to appreciate the role played by the school in his music career.
He was received at the school's assembly ground along with his band members, management team as well as associates to an astounding round of applause by over 4000 students and school authorities.
The musical equipment worth millions of Naira include a drum set, a full brass band set, three guitars, 3 keyboard pianos, microphones, speakers, combos, mixer, amplifier, trumpets and recorders.
His visit caused a fan frenzy as thousands of students and people in the community came around to greet him, take pictures and share how he has changed their lives. He was also hosted by the school's principal in his office.
Read the transcript of Flavour's speech at the assembly ground on his life changing story;
From playing in the choir to joining music bands I was relentless to pursue music. On this faithful day, I was in SS1 when I left school for 3days without the permission of my parents or school authorities and travelled all the way from Enugu to Warri with a band to perform at a concert. By the time I came back, my mum had reported me to the principal who had sent people to look for me and bundle me to the assembly ground. I was stretched out and thoroughly flogged.

But I thank God for that day because I learnt a very important lesson that changed my life forever and which is part of what brings me here today. I learnt to do anything in life you must be patient. Patience is key to success when combined with dedication, focus, passion and hard work.  I learnt the bitter way that you must obey your parents first and make sure you complete your education before you chase your personal dreams whether music, fashion or acting.

Also, I'm using this opportunity to announce the annual Mr. Flavour Nabania excellence in music star prize of $1,000. This prize will be given to the best graduating student of music every year. Music knowledge is key to be a successful musician like me. Remember to be yourself, stay original and don't ever forget the son or daughter of whom you are and where you're coming from. By God's grace I see many Flavours amongst you here today and pray God will guide your path and bless you too with success.

I believe this will help improve the standard of education provided by the school through access to the vast information and resources on the Internet. The phone lines I believe will help the teachers and principal communicate better towards the advancement of the school. As I only try to do my own quota, may God Almighty reward you and past teachers of this school for your immeasurable contributions towards developing leaders and the future of Enugu and Nigeria."