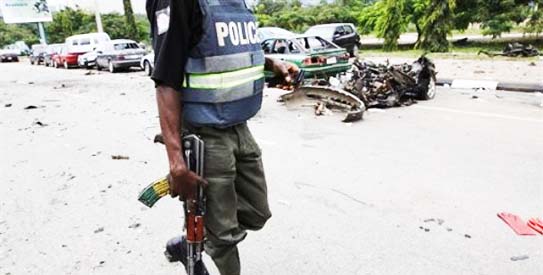 Sukanmi Ogunbiyi, a police officer, shot his wife, children, landlady, and several others in Abeokuta, Ogun State yesterday because of a marital dispute.
Vanguard reports that on several occasions when Ogunbiyi had disagreements with his wife, she and his two children would go to his landlady's house to take refuge. Ogunbiyi had incessantly warned the land lady, Iya Basira, to stop housing his family, however, she refused to heed his warnings. Because of continuous marital disputes, his wife recently moved out of her matrimonial home, and began staying with Iya Basira.
Yesterday morning, Ogunbiyi reportedly boarded a commercial motorcycle (okada) and visited Iya Basira's house. On arrival, he shot and killed the motorcycle operator and then proceeded to shoot and kill his wife, Oluwatosin Faremi, who was also a police officer.  He also killed the landlady, the landlady's daughter, two sons, and her grandchild. Ogunbiyi spared his children's lives and afterwards, he shot and killed himself.
Three others were wounded during the incident, and are currently being treated at a medical centre in Abeokuta.
Photo Credit: www.dawn.com