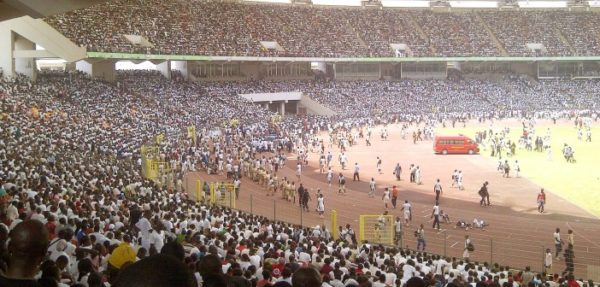 Every time someone says 'East or West, Home is Best', it is with sadness in our heart that we echo those words. It is with a lot of sadness that we report the news of the lives lost yesterday around Nigeria. The deaths arose from the stampede ensuing at the different test centres for the National Immigration Service recruitment for 2014. With over 56,000 applicants present before 7 AM and NO provision made for crowd control, the ensuing stampede ended with more than 10 persons dead and many more injured.
According to Channels TV: "Unconfirmed reports say that 7 persons may have died and several others injured following a stampede at the National Stadium, Abuja."
This Day Newspaper reports: "The employment test for recruitment into the Nigerian Immigration Service (NIS) conducted across the country Saturday turned deadly as stampede at three centres claimed the lives of 16 applicants and left scores injured.
Eight people were feared dead during a stampede at the National Stadium Abuja, five lives were lost at the Liberation Stadium, Elekahia, Port Harcourt, while three applicants were also feared dead in Minna.
However, the National Emergency Management Agency (NEMA) confirmed that seven people lost their lives and 40 were injured in the stampede in Abuja."
According to reports from people who went for the test, they were charged an application fee of 1,000 Naira
After this report, we waited for an official statement from the minister and Premium Times reports: Speaking in Jos, Plateau State, where he inspected the exercise, Mr. Moro said the applicants should blame their "impatience" for the stampede and the deaths.
He said applicants refused to follow instructions handed them by the recruiters.
"The applicants lost their lives due to impatience," he told journalists. "They did not follow the laid down procedures spelt out to them before the exercise; many of them jumped through the fences of affected centres and did not conduct themselves in an orderly manner to make the exercise a smooth one. This caused stampede and made the environment unsecured."
With rising unemployment rates and insecurity in our country, it is hard to see progress, unless we put aside our differences and demand justice and accountability from ourselves and our leaders.
It is truly a sad turn of events. Which way Nigeria?
Watch the report of the events on Channels TV

Another Clip

Photo Credit: nigerianewsupdates.com