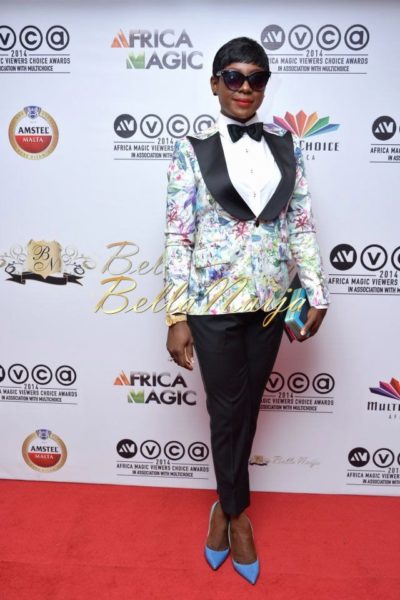 Nollywood actress Susan Peters was one of the many stars present at the 2014 Africa Magic Viewers' Choice Awards on Saturday.
The awards ceremony went down at the Eko Hotel & Suites, Victoria Island, Lagos.
Susan arrived on the red carpet rocking a menswear look. Ohimai Atafo of Mai Atafo Inspired designed a floral print blazer and black pants for her. She styled it with a white shirt, black bow tie, and blue heels.
Many of Susan's fans loved her look and remarked that she looked her best but a number of online critics were not loving the look.
Susan took to Instagram to respond to the criticism.
Read;
Thanks to @maiatafoinspired for my look# he put this design under 24hrs and some wicked soul will come and bad mouth# someone who is a designer and a lot of celebs av worn his designs# now I know why I watch animal planet cos some humans are truly wicked# I leave you negative people with the HolySpirit# Thanks to all those who applauded# thanks to my online true fam# God bless ma peeps#
Ouch!