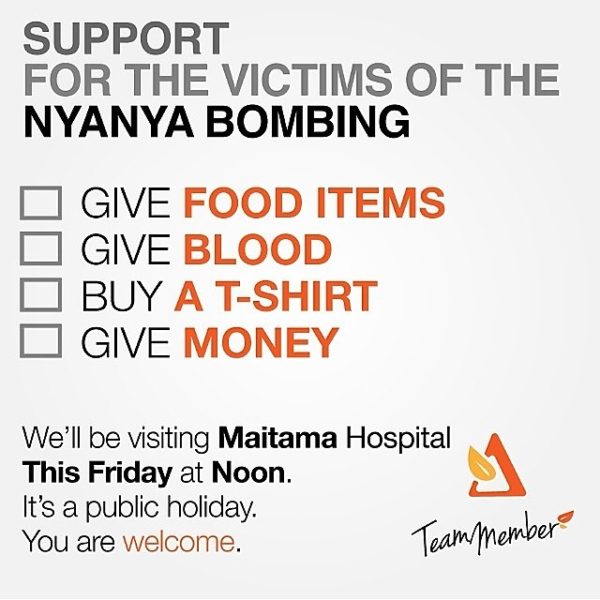 Everyone was shocked this Monday when a bomb went off at Nyanya motor park. Now the shock is over, it's time for us to rally to action.
Member Feese, survivor of the Boko Haram attack on the United Nations building in Abuja in 2011, is spearheading this mission to help, with her advocacy group – Team Member.
"A lot of the victims were breadwinners, trying to get to work in the morning. We want to help the families who will be going through hell now, with a lot of uncertainty about the future. We'll be visiting Maitama Hospital at Noon, this Friday with support. We need as much help as we can get. Here's how to get involved:
1. Food items will be distributed to the families. Any items can be dropped off at the reception of Lake Chad Hotel, Maitama: http://goo.gl/maps/3qCQA
2. Money will used to provide immediate and longer term support to the families. Donations can be
A. Brought to the hospital on the day,
B. Paid into our founders account: GTB – Member Feese – 0106226156
3. We have T-shirts for sale @ N2,000 a piece. These can be paid for as above, or purchased from Lake Chad Hotel. If you're outside Abuja, we can keep the paid for tee shirt for you, till further notice.
4. Blood is still needed. Donations can be made at the hospital.
For more info, please call
Mo: (+234) 903 904 7613
Nonso: (+234) 806 125 7047
Member: (+234) 803 686 4526″
For more BN Community Center articles, click here.
We encourage you to give if you can, however, please ensure you perform independent verification prior to donating any funds.