Tosan and Emi were the neighbours that never met. After competing for a parking spot and an episode of mixed up mail it took them moving away and connecting via LinkedIn before they fell in love.
The proposal was perfect and breathtaking – Emi took his bride to be on a birthday trip to Hawaii, under the night sky and overlooking the beach.
Their perfect pre-wedding shoot was captured by RH Photo Arts, planned by Dure Events and the bride's makeup was done by leading US/Nigerian MUA Lyzadora Beauty.
Enjoy!
***
Bride to be: Tosan
Groom to be: Emi
Our Love Story
By Tosan, the bride
It was early 2012 in Lafayette, Louisiana. I got back from work, checked my mailbox and found a piece of misplaced mail addressed to Owanemi. I kindly took it back to the apartment office; I would normally trash misplaced mail (not nice, I know). That was the first time I ever saw the name of my soon- to-be husband. Shortly after, I had a couple of friends ask me if I knew of the other Nigerian guy that lived upstairs, but I didn't really remember the name I saw on the mail, so I didn't realize it was the same person. We were neighbors that never met.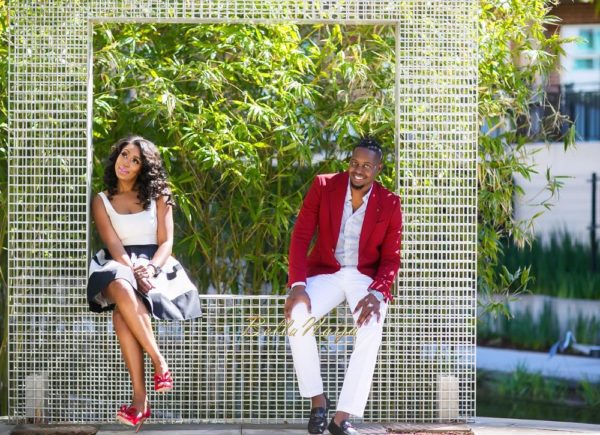 I had a preferred parking spot at my apartment, it was all planned out to get home at a particular time to get the closest spot to my doorway. But I started noticing this particular truck take my spot all the time and I kept wondering who it was and how he was able to get it every day of the week; it just seemed like he would never leave his apartment. I sort of turned it into a game and whenever I got the spot I would do a victory dance in my car before getting out LOL. I eventually found out it was Emi's truck from a mutual friend. Fast forward a few months later, I had to move to Houston, Texas for work. So, I didn't get to meet this mystery-parking-spot-stealing neighbor.
I got a request from him on LinkedIn not too long after and I laughed really hard when I saw it because of my parking spot games. We started exchanging messages, eventually spending long hours on the phone; he was such a great guy to talk to, full of humor, but I refused to let him in (usual yanga); he even sang Banky W's Yes/No to me countless times LOL. Let me just say that when I decided to tear down that wall, I found my soul mate ♥
by Emi, the groom
At the beginning of 2012, I had just started a new job and decided to pimp my life by moving to one of the nicer apartments in Lafayette, LA. Whenever I was home (rarely ever) I would hear what sounded like Nigerian music and even smell Nigerian food. I thought I was just imagining things because as far as I knew all my neighbors were Ragin Cajuns LOL. A few months after I moved in, my good friend told me there was a Nigerian lady he knew of who lived in my apartment complex. For some reason when he said 'Nigerian lady', I thought the 'Nigerian lady' was a forty-something year old woman and did not think much of it.
Fast forward to the summer of 2012, I was about to pull into my favorite parking spot when some crazy driver stole it right in front of me. But my frustration quickly melted away. As I saw the 'crazy driver' get out of the car, I knew that I was looking at the most beautiful woman I had ever seen. I was too shy and in extreme awe to do anything so I just watched her walk up the stairs from the comfort of my truck. Eventually, I found out what her name was from another friend who randomly asked me if I knew her friend, Tosan who lived directly below me. As soon as I found out what her name was I added her to my LinkedIn network but she did not accept my invitation to connect. Not long after this, I got transferred to Denver by my company in late 2012 and figured I'd never see her again.
And then it happened! On a cold winter morning, a few weeks after I had moved, I saw that she had accepted my invitation to connect on LinkedIn and had even sent me a message. We started exchanging messages, and eventually I called her. From that point, we would talk for hours on end; we even found out that our dads went to FGC Warri together (Fun Fact). However, the moment I told her I was interested in being more than just friends, she started showing me pepper and making life difficult for me. I lost 20 lbs in that period LOL, but I persisted as a true Kalabari man always does and she finally let me into her heart.
The Proposal
by the groom
I had always known I was going to get married to Tosan; so when I finally got the engagement ring and asked both our parents for their blessings, I decided it was time to make my move. One fine afternoon when I was home from the rig; Tosan had just made me some egusi soup and I insisted on making the eba (wink). I wrapped the ring in cling film, placed it in the eba and waited for her to find it as we ate our delicious meal of yellow eba and soup and drank malt. When she found it, I said, "So you will marry me ehn"; I did all this without even turning my attention away from the food I was eating because it was so delicious.
LOL Okay, okay let me try to be serious LOL (the above paragraph was a joke!)
I planned my proposal to Tosan for a few months. I told her I was going to take her somewhere special for her birthday but did not want to tell her where we were going; but it is impossible to keep anything from my fiancée so eventually I told her it was between Puerto Rico and Hawaii. She kept pushing and I told her it was going to be Hawaii. She still kept pushing and I finally told her it was going to be Maui and we would be spending one night at the Ritz Carlton and the rest of our time at the Four Seasons in Wailea.
My biggest issue was where to hide the ring through that long flight from Houston to Maui. I finally found the perfect hiding spot which is a secret I will take with me to my grave. We arrived in Maui a day before her birthday and went on to spend an amazing night at the Ritz Carlton where we were pampered silly. The next day was Tosan's birthday and I had a few surprises in store. I gave her a small gift for her birthday that morning before we checked out of the Ritz and headed to an air strip where our helicopter tour of the beautiful island of Maui commenced. It was an amazing experience!!!
I had a feeling she was expecting me to propose that day so I played along acting as though I would propose that day. I pretended to be nervous throughout the day, which I'm sure made her go crazy inside LOL. I even put a box of cookies in my pocket so she would think I had a ring box in my pocket hahaha. After the helicopter tour, we checked into the Four Seasons. It was amazing from the way we were welcomed to the way they addressed me as if I was an 'oga at the top' (not knowing I spend most of my life as a laborer in the oilfields of North Dakota). We got settled into our rooms and then I told her I had another surprise for her!!! I had booked an ocean side Hawaiian massage for two which was an out of this world experience. After the massage we napped and then it was time for the final event of the day; dinner at one of the finest restaurants in Wailea.
I knew she was expecting something to happen at dinner and so I made sure the bulge from the box of cookies in my pocket was very visible to her LOL. Anyway, dinner was fabulous but there was no proposal.The next day was a very chill day; we spent it lounging by the infinity pool and on the beach. Later in the evening we decided to go get a facial on another part of the island which was magnificent. When we got back to our hotel, we were famished. Luckily I had made a reservation at a restaurant overlooking the beach. I told her not to bother dressing up since it was just going to be a casual dinner and then straight to bed. The restaurant was amazingly beautiful; we could hear the waves gently hitting the sand on the beach and the candles all around the restaurant just made the setting more romantic.We ordered dinner and I then told her that I needed to go use the restroom. Little did she know I ran up to our room to get the ring out of my secret hiding place. I returned with the cleverly hidden ring and she did not suspect a thing. Shortly after, the waiter came to ask if we were okay I gave him my phone to take a picture of us, she was about to get up for the picture when I gently pushed her back into her seat and got down on one knee and asked her to spend eternity with me.
She said Yes! 🙂
~ Photography: RH Photo Arts
Photography: RH Photo Arts | www.rhphotoarts.com | raheem (at) rhphotoarts.com | instagram.com/RHPhotoArts
Makeup: Lyzadora | instagram.com/lyzadora
Wedding Planner: Dure Events | instagram.com/dureevents
________________________________________________________________________________
We love weddings as much as you do – get in touch for inquiries, inspiration & more!
E-mail: weddings (at) bellanaija.com | E-mail for #AsoEbiBella: asoebibella (at) gmail.com