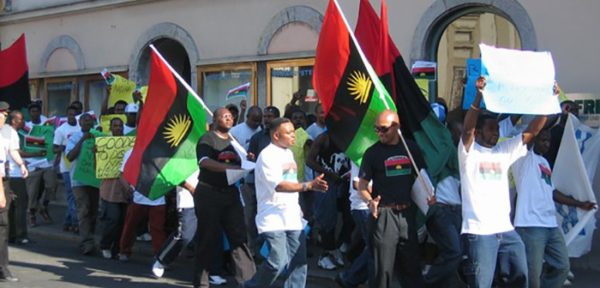 If you've read Chimamanda Ngozi Adichie's novel – Half of a Yellow Sun, or you've been lucky to hear stories about the Biafra era, you'll understand that it was a difficult time for the Igbos.
You will also get to know why Nigerians are tribalistic.
The Movement of Actualisation of the Sovereign State of Biafra (MASSOB) yesterday in Owerri, Imo State, demanded for six new republics in the country, including Biafra Republic.
According to The Sun Newspaper, thousands of the members went to the Ojukwu Memorial Centre in New Owerri for the maiden edition of the commemoration of Biafran Day on May 30 – when late Dim Chukwuemeka Odumegwu-Ojukwu declared the Republic of Biafra in 1967.
They said it was time for their own republic.
In the UK, Ralph Uwazuruike, a MASSOB leader dressed in a blue Biafran uniform, urged the Federal Government to "do the will of God and let their people go."
"It is the watershed in the history of the geographical expression called Nigeria. It is the aftermath of the mistake of the amalgamation of the Northern and Southern protectorates by Lord Lugard.
It is the reflection of the deep-rooted hatred among the major ethnic nationalities in Nigeria. It exposes the irreconcilable disdain existing between Islam and Christianity. It is all about a failed state called Nigeria." he said.
On 47 Years after Biafra, the reasons are still evident: "The reality of May 30 can no longer be hidden, but the Abuja politicians and contractors are not deterred. They believe in the elusive one Nigeria, the one Nigeria that is their cash cow. The one Nigeria that is their source of corruption and impunity. The one Nigeria that is their instrument for inequality. The one Nigeria that is shielding them from all sorts of evils."
On the current state of the country: "The exercise was not done with clean hands. It failed to receive the blessing of God. That is why Nigeria remains a crawling baby after 50 years. The anger of God is on Nigeria. There is too much blood in Nigeria. The blood of the common man is used to sustain the evil called Nigeria. Insecurity in Nigeria can never abate. It is the sign of the anger of God."
On the solution to Nigeria's problems: "National Conference cannot solve the problems of Nigeria because there is deep-rooted hatred among the different nationalities. The hatred is so deep and cannot be wished away. We only pretend to love ourselves. The hatred is natural. It is in our blood. No amount of preaching on nationalism can change Nigeria.
The only solution is to divide Nigeria into six geo-political zones: namely, South East (Biafra); South West; South South; North East; North West; and North Central," he suggested, adding that was what Ojukwu tried to achieve in 1967 but was misunderstood."