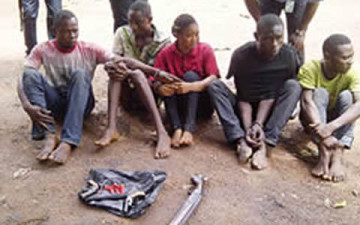 Sherifat Bakare, a 24-year-old robbery suspect has revealed that it was her boyfriend that convinced her to be an armed robber.
In the company of four other members of her gang, Bakare was apprehended on Wednesday by the Special Anti-Robbery Squad of the Ogun State Police Command in Abeokuta.
"I was hustling before Raji, my boyfriend, told me to join his gang," she told reporters including Punch
When she asked to elaborate on being a hustler, Bakare said she was into prostitution. She made N5,000 per day in Lekki, Lagos, two years ago.
She stated that the operation began a few weeks ago, when she and another member Bola Onasile had approached her boyfriend about a wealthy man who had N70 million in his home in Sango, Ogun.
"I have only gone on two operations with them. I don't know him (Onasile) well. I only know that he was the one who brought the job.
Raji gathered other members and they snatched a vehicle (a Nissan Quest) around Iwo Road, Ibadan. We decided that the vehicle would be used for the operation.
The gang asked me to sit in the front of the vehicle so that when we were stopped by policemen on the way, being a woman in the front seat would make them un-suspicious. But during the operation, the police cornered us and Raji was shot dead." she said.
On her parents: "I am from Idofian in Kwara State. My father is late but my mother lives in Ibadan. She has no idea I do this kind of job and she does not even know I am in police custody."
On Raji telling her to leave prostitution for robbery: "I was living with a security guard in a house at Osborne in Ikoyi. The landlord of the house was out of the country. I was going from there to 'hustle' in Lekki every night.
Raji was a good helper to me. That was why I decided to leave prostitution when he begged me. When he introduced me to armed robbery, I asked him if there would be no problem and he assured me that there would be none. When we started dating, I did not know he was an armed robber though."
Investigations are still ongoing to ensure that other members of the gang are arrested. Wives of the armed robbers were reportedly arrested as well, because they admitted their husbands were robbers.