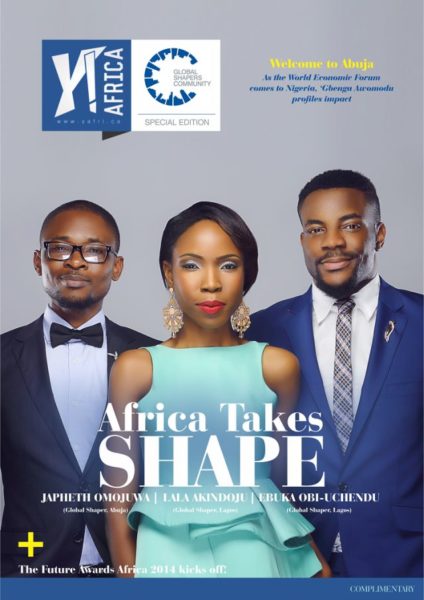 Y! Africa has partnered with Global Shapers Hub in Abuja to present a special issue. It focuses on SHAPE Africa, which was held from 5th to 6th May, just before the 25th World Economic Forum kicking off today Wednesday 7th May 2014.
On the cover of the magazine are three global shapers from #TeamNigeria, they include actress/producer/Lagos Hub member Kemi "Lala" Akindoju, TV presenter/Lagos Hub member Ebuka Obi-Uchendu and blogger/lecturer/Abuja Hub member Japheth Omojuwa.
"The Abuja Global Shapers is excited to host this gathering of Shapers across the Continent representing 35 hubs and 25 countries," said Joycee Awomodu, who is curator of the hub. "We expect that at the end of this gathering we would have come up with bold solutions for action and implementation in our communities.  We strongly believe that if you change the thinking, you can change the results."
The issue also profiles the Abuja Global Shapers, as well as a piece by Editor-at-Large Sean Obedih on Corporate Venture Capital and a profile on Africa's leading youth event, The Future Awards Africa, which 2014 season will also be launched this week.
The magazine will be widely available in Abuja as complimentary for guests of the Forum. It follows Y! Africa's last edition, covered by founder of the Mara Group, Ashish J. Thakkar. Y! Africa is available in stores and from vendors across Nigeria, and is also distributed in Ghana, Rwanda and South Africa.
In Nigeria, you can also pay for the magazine with your mobile phone or online at Okada Books www.okadabooks.com andexodusestore.comhttp://www.exodusestore.com and have it delivered to any part of the country (click on magazine, click on the Y! Africa logo and place your order).
Photo Credit: TCD Photography