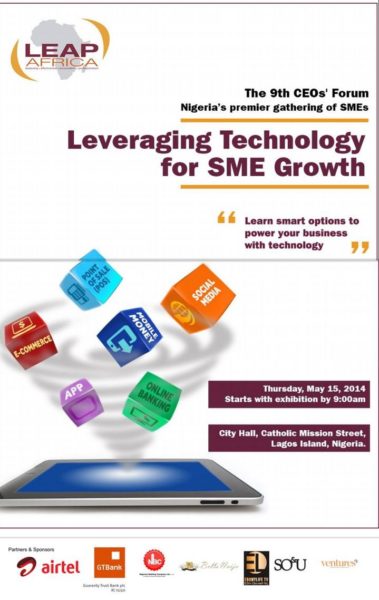 It's almost time for the CEO's Forum at this year's LEAP Africa. This is an annual event which provides a unique platform for Entrepreneurs, CEOs and Managers in the public and private sectors to interact and share insight on critical strategies and tools to promote business sustainability.
This years forum is all about technology! It will feature tech experts and experienced entrepreneurs who will be discussing the theme – "Leveraging Technology for SME Growth; exploring its use in publicity, external communications, marketing, outsourcing and business intelligence".
According to Iyadunni Olubode, LEAP Africa's Executive Director, "Technology is critical to long term sustainability of any business. Given Nigeria's growing internet population estimated at about 50 million users with nearly 70% of them accessing the internet through their mobile phones alone, online transactions present a win-win; transparency and convenience for buyers, while it minimizes brick-and-mortar costs and globalizing local markets for sellers. One major challenge is explaining technology to business people in a way they understand. The panel of speakers at this forum will be presenting businesses owners with tips and strategies they can adopt immediately to move their businesses forward."
Speakers at the forum will include Dr. Oscar Emokpae (Chairman; Mindshare Advertising Agency), Tunde Kehinde (Co-Founder Jumia), Abasiama Idaresit (MD Wild Fusion), Olusegun Martins (Head, Technology Insight Communications) and Professor Balvinder Powar (MD & Chief Communications Officer, Booster Industries (Spain)) who will all be sharing technical knowledge and personal experiences with a view to simplifying technology for small and medium sized business owners. It will provide SMEs with cutting-edge technological guides, tools and skills to support business growth. The Honourable Commissioner of Commerce and Industry, Sola Oworu and CEO, Insights Abiodun Shobanjo, a seasoned entrepreneur, will also be present at the event.
Date: Thursday 15th May 2014
Time: 9AM
Venue: The City Hall, Mission Street, Lagos Island
To attend, you can register and find details to the form here: www.leapafrica.org.
_________________________________________________________________________
BellaNaija is a Media Partner with LEAP Africa 2014