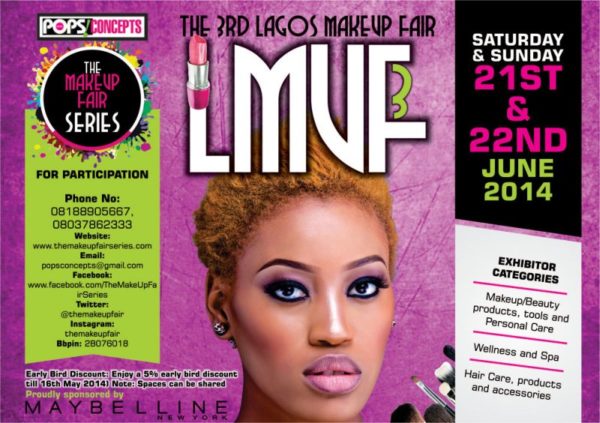 Following the success of the first and second edition of the Lagos MakeUp Fair, Pops! Concepts announces the 3rd edition.

For the first time, it will be a 2-day event so you can get all your makeup addictions fed. Proudly sponsored by Maybelline New York the excitement is already building. LMUF3 is the 13th edition of The Makeup Fair Series, and is dedicated to providing a platform for professionals in the business of makeup and beauty to showcase and demonstrate their products to a variety of possible clients and business partners.
Exhibitors/sponsors receive end –of – event results that lead to improve and increase sales, enabling them reach out to a new makeup and beauty buying audience, launch new product ranges, test the market and build a clientele database thereby improving brand circulation.
Exhibitor Categories include: Makeup/Beauty products, Tools and Personal Care | Wellness and Spa | Hair Care, Products and Accessories | Cost Categories | MakeUp & Beauty Brands | Non-Brands + Sole Reps/Franchises/Owned Labels | Non- Brands (only) | Services (only)
Early Bird Discount: Enjoy a 5% Early Bird Discount ( from now until Friday 16th May 2014)
Please Note: Spaces can be shared.
Date: Saturday 21st – Sunday 22nd June 2014
Venue: Anchor Events Place, Ikeja, Lagos
For Sponsorship & Participation: Please call 08188905667 or 08037862333 | Send an e-mail to [email protected] | Find them on Facebook: www.facebook.com/themakeupfairseries | Follow them on Twitter: @themakeupfair | Follow them on Instagram: @themakeupfair | Add them on BBM: 2B076018
_____________________________________________________________________
Sponsored Content