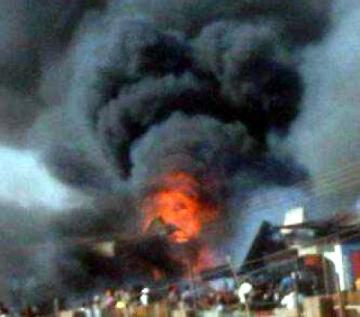 The Gombe Governor's House was attacked late this afternoon. "Massive explosions" rocked the building according to Sahara Reporters.
At this time, there are no confirmed reports of injuries or death.
So far no group has claimed responsibility. Police, fire department and military officials are currently at the scene of the blast.
Eyewitnesses say it was a bomb blast that could be heard all over the city.
Update:
Two soldiers were killed in the bomb blast, and six were injured.
The soldiers were reportedly on guard, manning an armoured tank permanently stationed by the gate of the governor's house for security, Vanguard reports. 
The cause of the explosion is still unclear. Some reports state that it was an attack, while others say it was an accidental discharge that caused the explosion. 
For instance, it has been reported that the explosion was caused when a pick-up truck loaded with grain bags exploded, near the home of the Gombe State Governor.
Another account states that excessive heat, prompted some explosives in the armoured tank to explode.
Others say that Police Armoured Personnel Carrier that was stationed in front of Dakwambo's house was "the target of the blast," suggesting that it was indeed a deliberate attack.