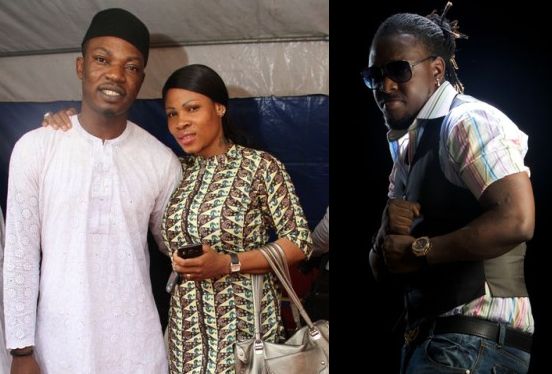 Nigerian producer K-Solo in 2012 made headlines for physically abusing his wife.
Kikelomo Oyeniyi later retracted the statement claiming, "we were just having fun". If you missed the story, click here. The couple later separated.
In an interview with Punch, he spills about the drama surrounding his relationship with his ex as well as on his beef with Egberi Papa 1 of Bayelsa Timaya.
Ex-Wife
On his career halting after split from his wife: "I agree with them. That was part of the reasons I was away for a while. In this part of the world, when such scandals come up, no matter the kind of material you throw out at that moment, people would not want to consider it. So I had to chill out for a whole year to allow it to go down. God has His own plan. That is the reason I am back. To crown it all, I have a company I work for as the MD."
On if he asked her to buy him a Range Rover: "That is the sad story. The person who claimed I asked her to buy a Range Rover for me is still driving the old Honda around town after many years. I already acquired a Range Rover. She claimed I asked her to change her property names to mine. But she doesn't have any property. If I had said it then, nobody would have listened to me. She is living with her parents somewhere in Agege (Lagos)."
On their child together: "That is the part that gets to me when people disturb me about the child. The child is with her. I cannot go hunting for the child for now. It can turn out to be good and it can turn out to be bad. I don't want any scandalous story. So whenever she brings the child and I can ascertain that the child is mine, then it is fine. I have already made arrangement for his provisions for the rest of his life and that is if the provision is not embezzled by his mother."
On if he is officially divorced: "I have been pursuing it and just a few days ago, my lawyer called me that the case would be heard soon. After the trial would come the ruling. I would happily place the divorce papers on the Internet for everybody to see that I am divorced and free."
Timaya
On issues with Timaya: Not really. I learnt Timaya is upset about a young artiste called Patoranking. His songs are actually topping charts at the moment. He featured Timaya in one of his songs. I leant Timaya said he signed the boy on his label. I know it is a lie. Timaya doesn't like paper work. I know that about him. The boy was picked up by another record label and I learnt Timaya is upset about it and saying nonsense about the boy. Why didn't he sign the boy? He just shot a video for the boy and the new label, as I learnt, is even ready to pay him what he spent but I learnt he refused the money.
On Karma: "Whatever you are doing and you feel it is gone; it will be waiting for you. No sinner will go unpunished. When I was his producer, I produced his first three successful albums that made him what he is today. He never came back to show gratitude; instead he is always fighting me. If I talked to him to tell him the right thing to do, he felt I had no right to tell him such because he felt he is a star. When I wanted to get married, he was among the people who mocked me. Now, he has a 'baby mama.' In life, when we don't know the kind of death we would have, we shouldn't laugh at people because we don't know how our case would be."
On if he is angry with him: "It is not as if I want to bring him down but I want you to know that nothing lasts forever. It is what you do in life that keeps you going eventually. I was on top of my game before I had the crisis. We should not bite the finger that fed us. God has made me big. I don't need his money. I can talk about him because I am very comfortable. I don't pay rent but where he lives today is still a rented apartment even with all his money."
On if they are still cordial: "We are not friends on the job. But if I see him on the road, I can say hi to him. If he decides to respond, it is fine but if he doesn't, it is also fine. Davido bought a house for his producer the other day. It is not as if Davido is working fully with the producer anymore but he never forgot that the producer made his first hit."
On possibly working with him: "No way! I will never be his producer ever again! I can only give him advice."
To read the full interview, click here