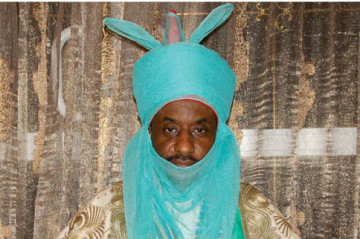 As excitement erupted over the selection of Sanusi Lamido Sanusi as the New Emir of Kano, there is also a group of people who are not so happy about this news.
Hundred of youths in Kano staged protests all over the state, following the announcement, Vanguard reports.
The youth were reportedly carrying sticks, leafs, and weapons while reciting war songs, calling for a reversal of Sanusi's appointment.
Resounding chants of  "Bamaso Bamaso" which means "we don't want" echoed throughout the atmosphere around the emir's palace and surrounding areas, as motorists and pedestrians sought safety during the chaos.
According to sources, the ruckus has since subsided and no fatalities have been reported.
In other related news, the PDP has retracted their erroneous congratulatory statement. See the official press release below.
Our attention has been drawn to a unauthorized statement issued on behalf of the National Publicity Secretary of the PDP by his Special Assistant, Mr. Richard Ihediwa, congratulating the eldest son of the late Emir of Kano, Alhaji Sanusi Lamido Ado Bayero as the new Emir of Kano.

Mr. Ihediwa relied on a false news flash on the AIT and issued a statement in that direction without approval from the National Publicity Secretary, Chief Olisa Metuh. This is completely embarrassing to the National Publicity Secretary and the entire leadership of the PDP.

We hereby dissociate with the statement earlier issued and regret the embarrassment this may have caused the entire nation, the Kano Emirate and the good people of Kano state.
Signed
Chief Olisa Metuh, National Publicity Secretary