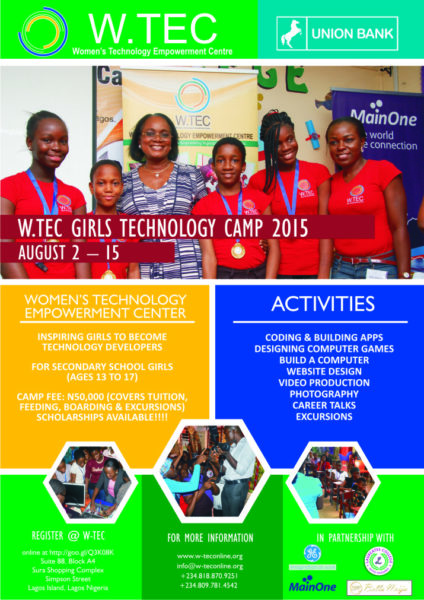 The Women's Technology Empowerment Centre (W.TEC) is currently accepting applications for it's 7th Girls Technology Camp.
The 2-week annual W.TEC Girls' Technology Camp is a residential technology education and mentoring programme aimed at helping girls develop an early interest in computers and other information technology.
The girls will learn to:
Code & Build Apps
Design Computer Games
Build a Computer
Design a Website
Shoot a Film
This year's edition will take place from August 2014 in Lagos, Nigeria and is open to female secondary school students aged 11 to 17 years.
Date: Sunday 3rd – Saturday 16th August 2014
Deadline for registration is Friday 18th July 2014. To apply online for the W.TEC Girls Technology camp, please click HERE.
You can read more about their work on: www.w-teconline.org.
You can also view photographs from past programmes online: www.flickr.com/photos/wtec