Ramadan Kareem!
We have another beautiful Muslim wedding for you today to mark this holy month. Ayo & Bayo met through the bride's co-worker at the time, and now they have been happily married for a few months.
Enjoy!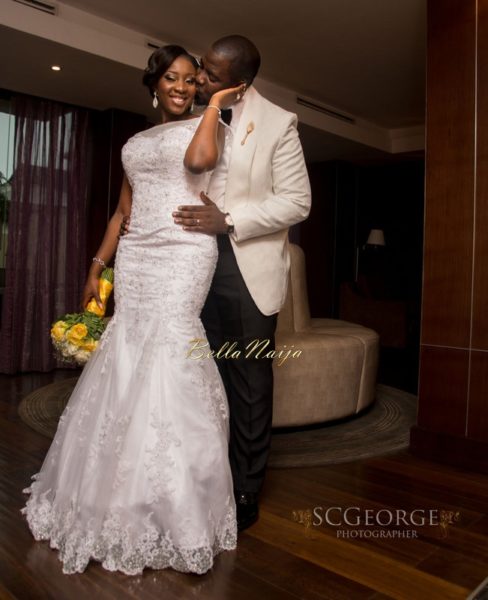 How We Met
by the bride, Ayo
Today's relationships should provide so many important rewards, it should come as no surprise that people are inclined to view their romantic partners in a positive light especially when it's one like the groom of the day whose positive attitudes are so loud it drowns his imperfections (no swollen head Mr Bayo!).
Bayo and I met exactly 28 months ago through a lovely friend. I personally believe that's there's beauty in every situation, it only depends on where we are looking from and how we have decided to view things. Our steps are often ordained by The Lord, we just don't know most times.
I had a job which I hated terribly shortly before I met him and it was through the job I met Funmi who introduced me to Bayo… Now I know why I had to have the job.
We spoke on the phone for a couple of weeks before we eventually decided to meet up for a movie. Bayo couldn't stop being extremely generous with his gazes, well. It seemed like he watched me more than he watched the movie. For me, it was not love at first sight, for him? Let him complete the rest…. Hehehhehehe ….. Fast forward to today.
Today? Unlike a lot if married people, I don't have in-laws, I have an extended family because they treat me like I have always been a Gbemisola (my last name), all I can say is Alhamdullillahi.
To call Bayo an amazing man is an understatement. He is one of the few people who ALWAYS puts me first. He is half man, half extraordinary. It's our first day into forever, perhaps the plus one day.
The Proposal
I visited Nigeria from England where I live and Adebayo asked to take me to Dubai. Well, it sounded like fun to me hence I welcomed the offer. And in the middle of the beautiful Dubai, my Prince Charming proposed.
Wedding Planning Tips!
Planning is key. Start early. Even when it seems like the dates are far away, it's there in no time.
Just for Brides!
Don't sweat it. Get a good event planner. Look flawless and stress free on your day. No one has the RIGHT To look more radiant than you do on that day. Stay calm and enjoy every bit of your day. Seriously! Don't sweat it. Hopefully, it's one in a lifetime. Watch your video in 20 years and still be proud of you.
***
Look out for the bride's commentary throughout the wedding feature!
BN Weddings wishes Ayo & Bayo a beautiful married life.
***
Wedding Video by Hauteman Events

Ayo & Bayo Trailer from Hauteman Events on Vimeo.
Photography: SC George | DuduGuy Photography
Nikkai
"Hmmmmm. He looked dapper in his suit by King Hakbal. Sometimes, it's not the suit or the gown, it's who's wearing it. He was born to model clothing he just doesn't know that yet. Shhhhhh! Don't tell him I said that.
He looked so on point though and I couldn't stop stealing glances at him…. Hehehhehehe"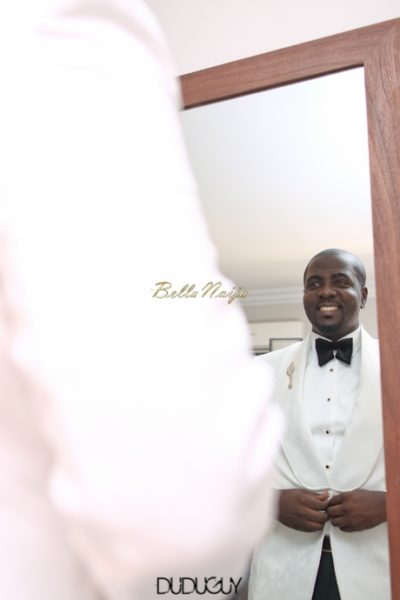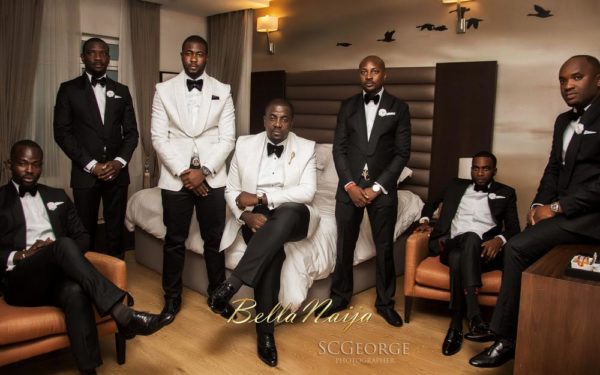 "My wedding dress was a combination of three different wedding dresses. I guess this means I cannot pin the dress on any of the three shops. I had a vivid idea of what I wanted and I was not going to settle for anything less pretty. It was tough but the excitement of getting it right and looking pretty in it kept me going. Yes, I made my perfect dress eventually."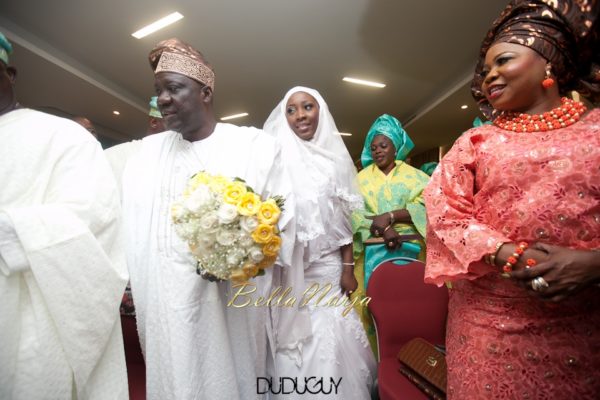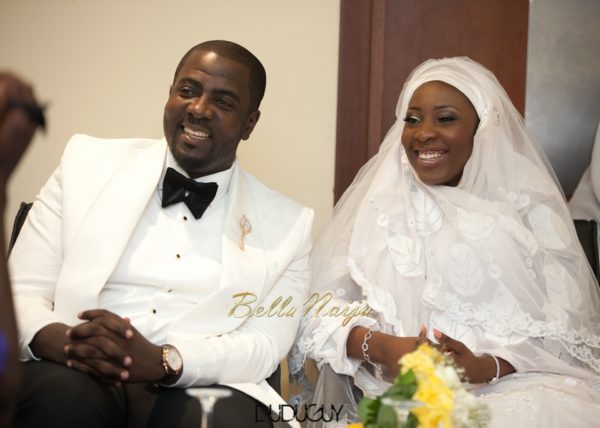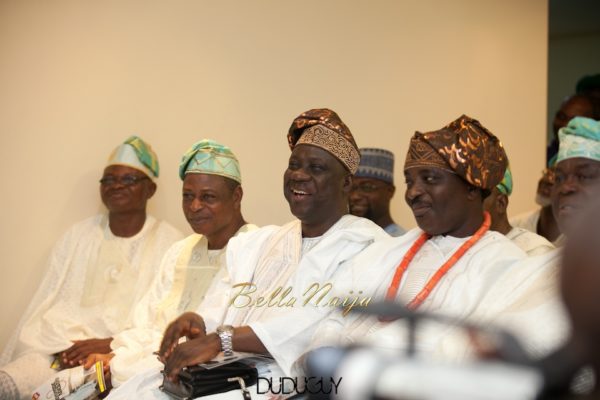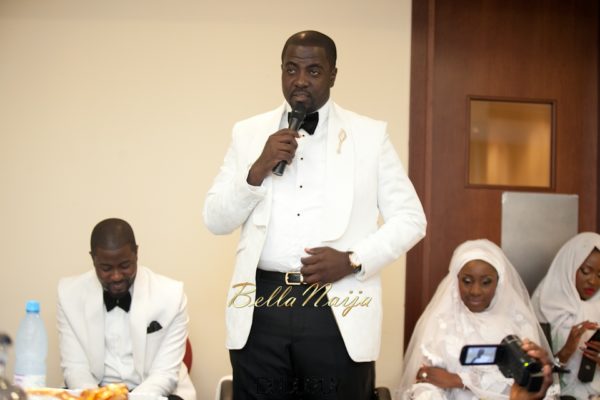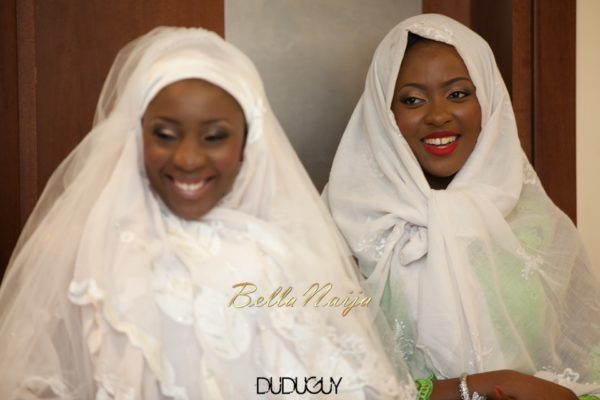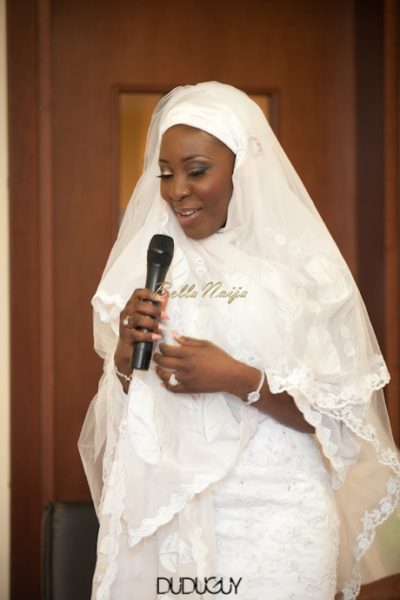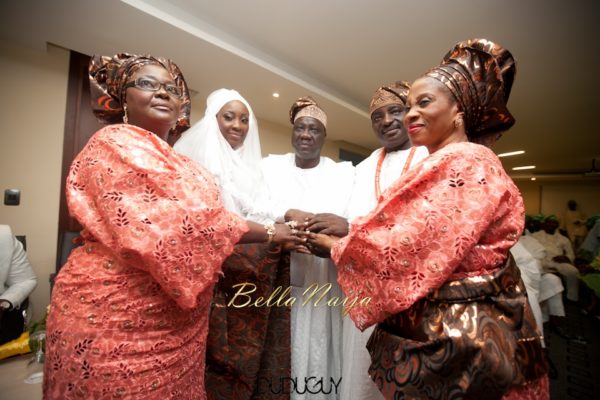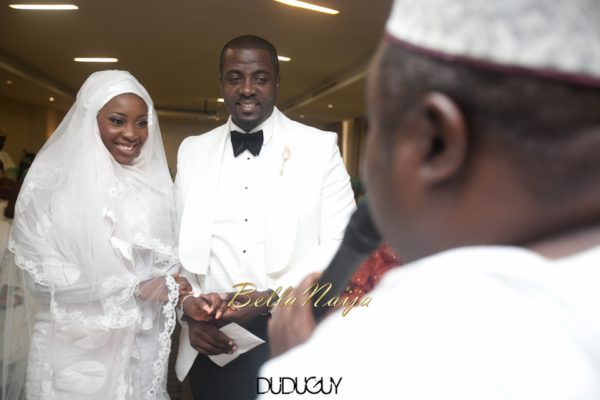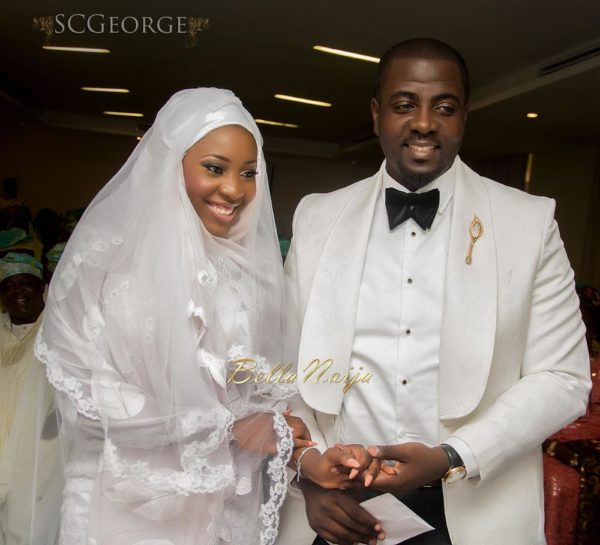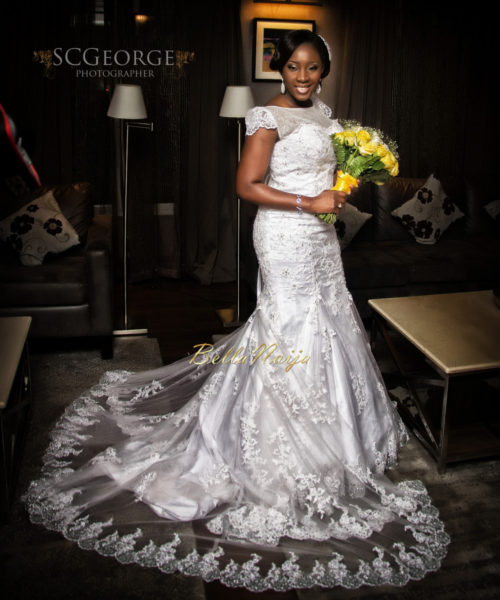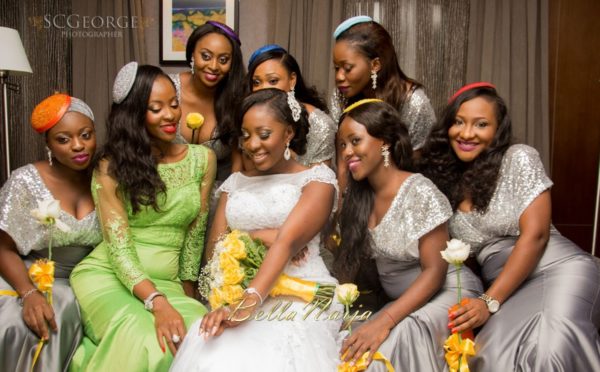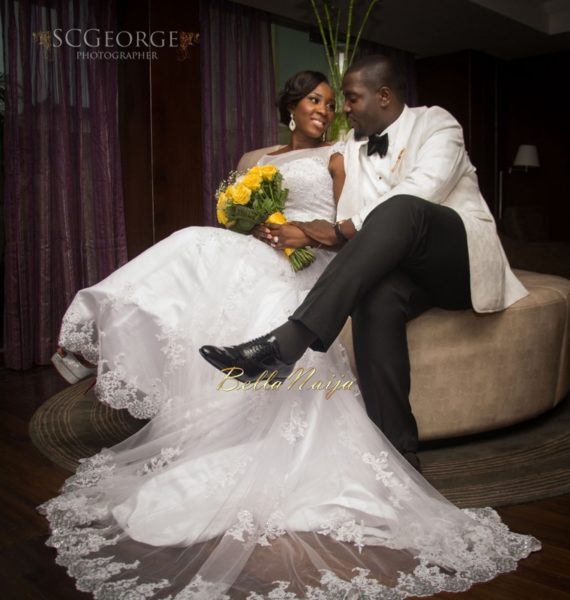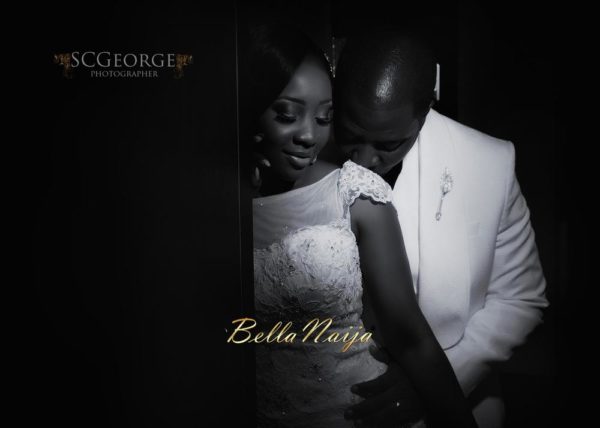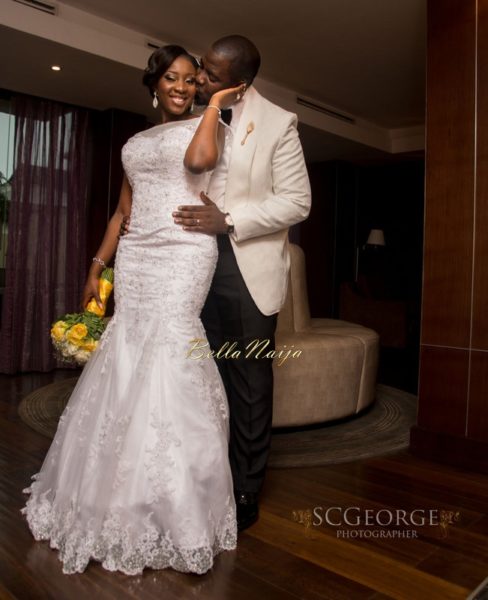 "My ladies had matching hats and sandals. We created the rainbow effect while my lady of the day had a green dress on.
I wanted to portray something colourful yet classy. Yes, I was scared it may look out of place at first but on that day? I was glad I went on with it. I wanted my ladies to look different from the everyday train.
One word! UNIQUE!"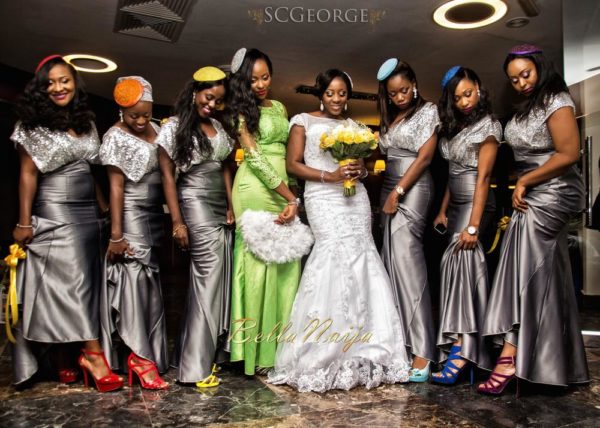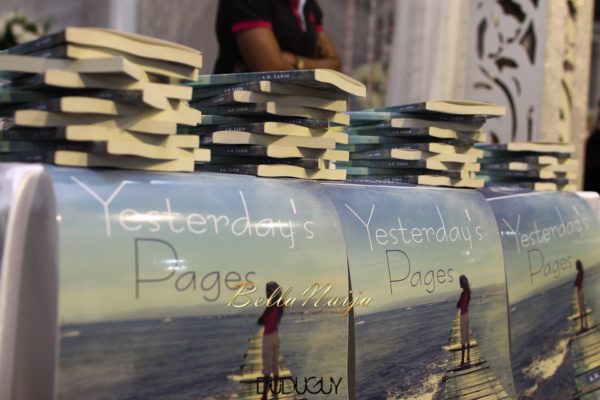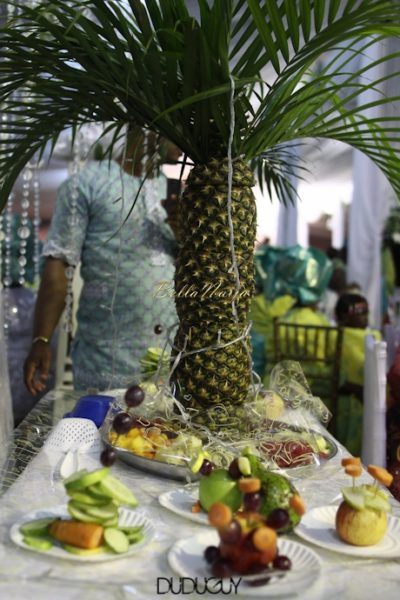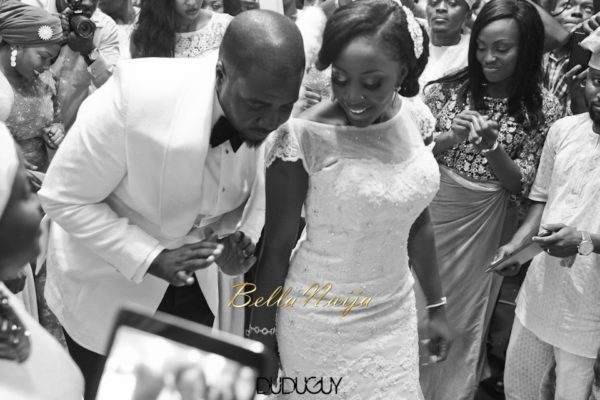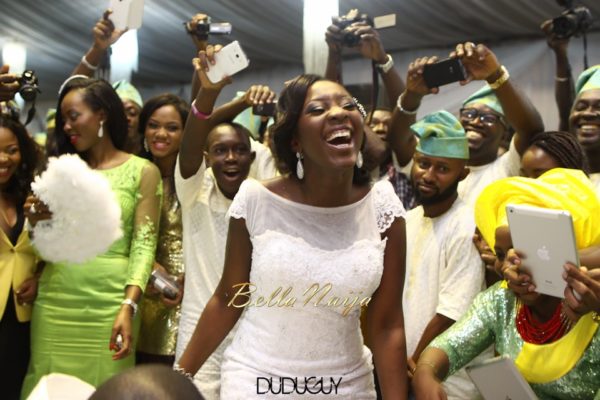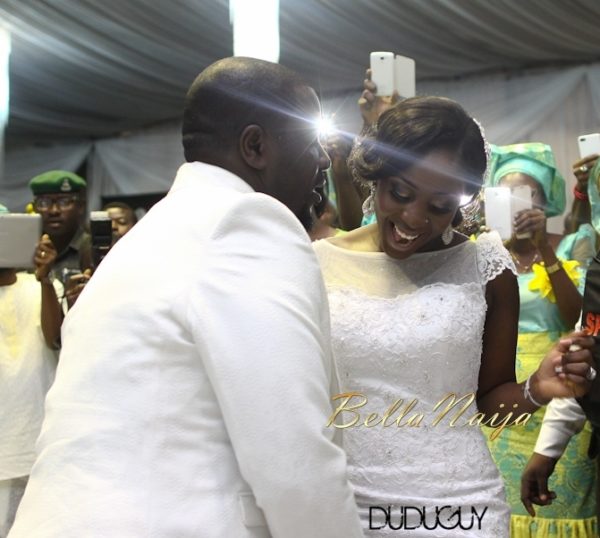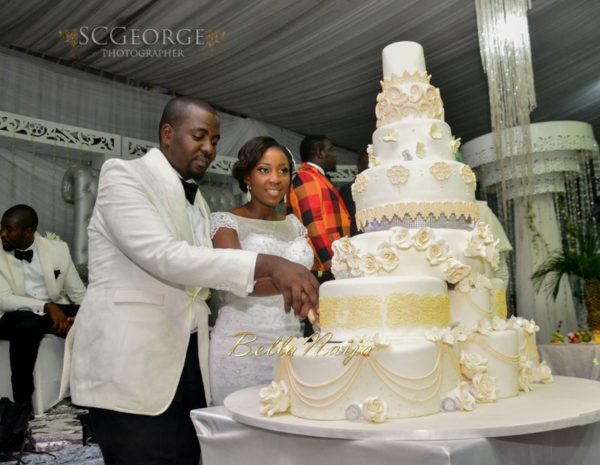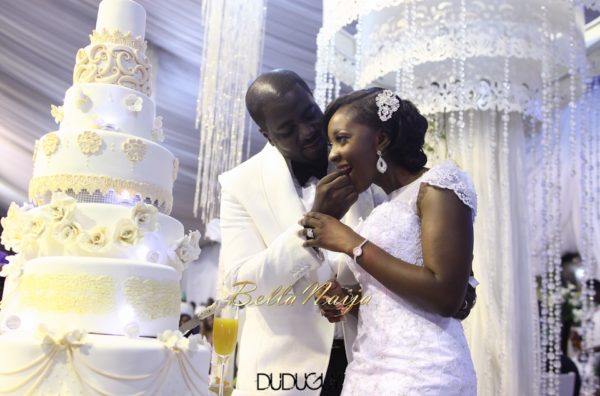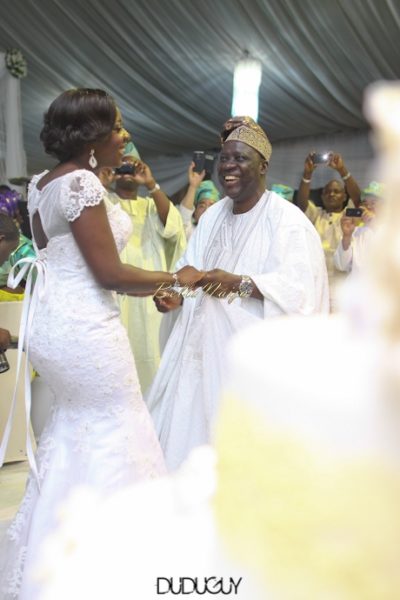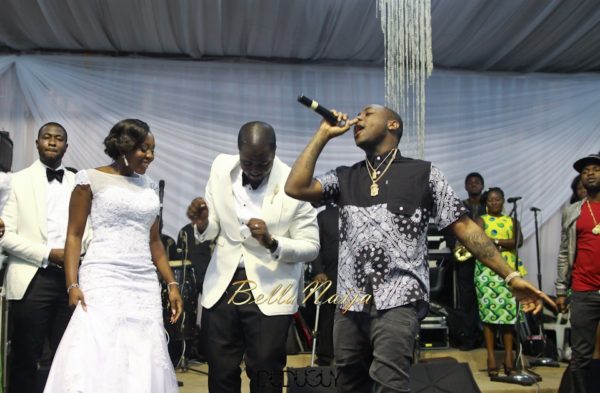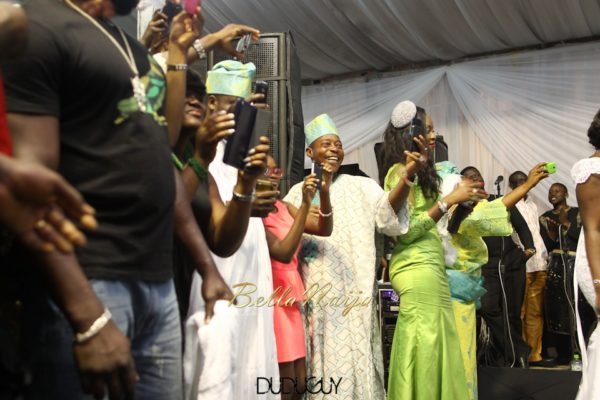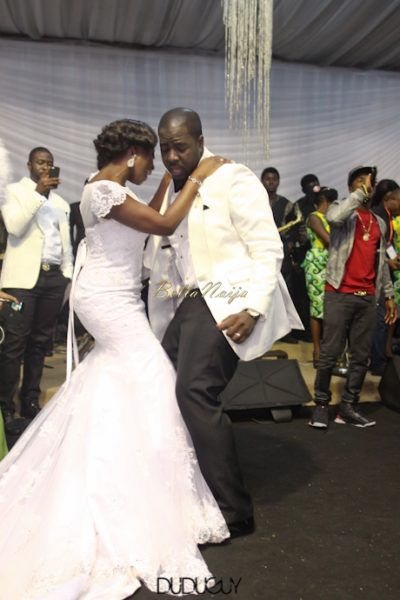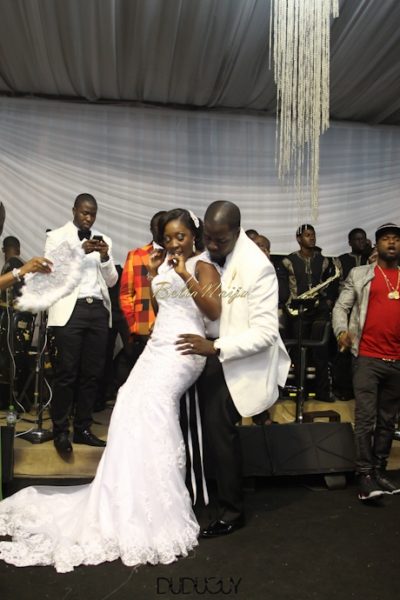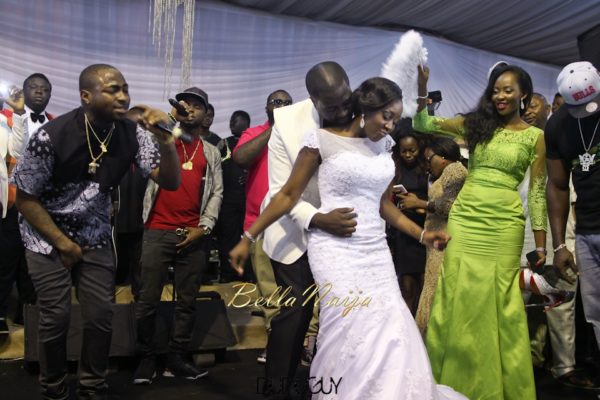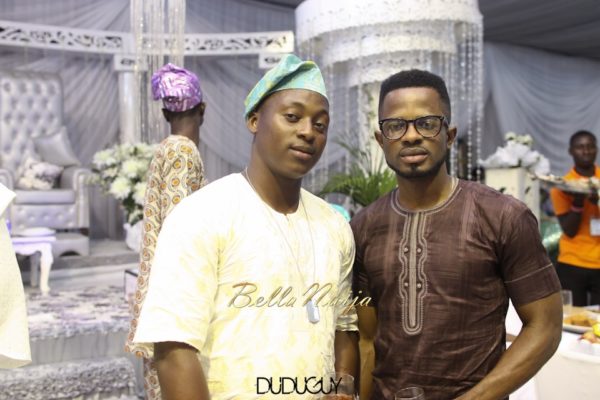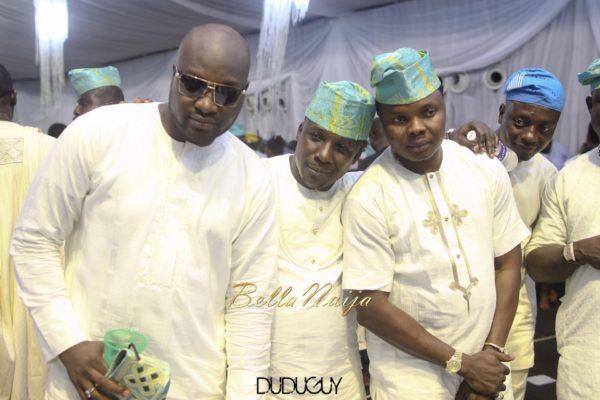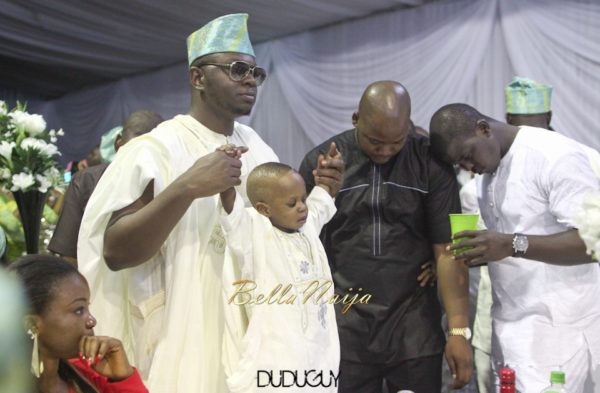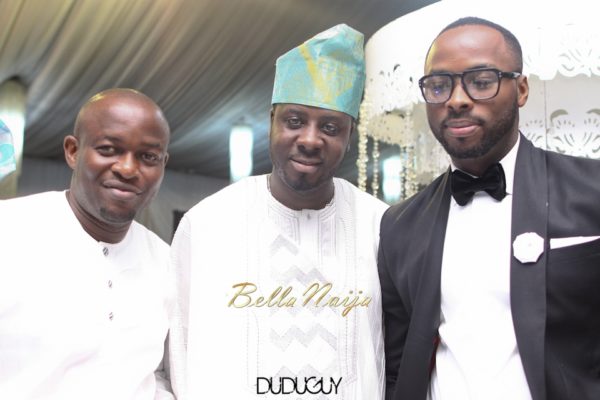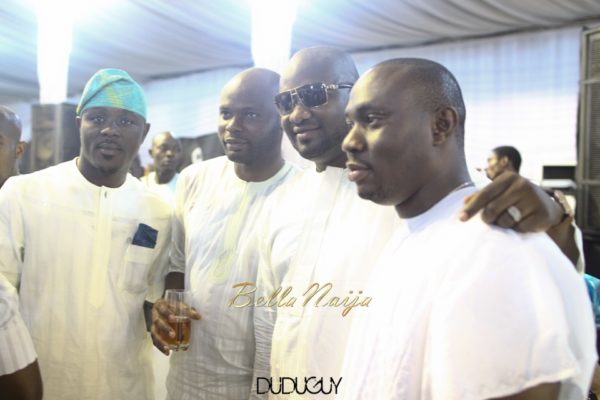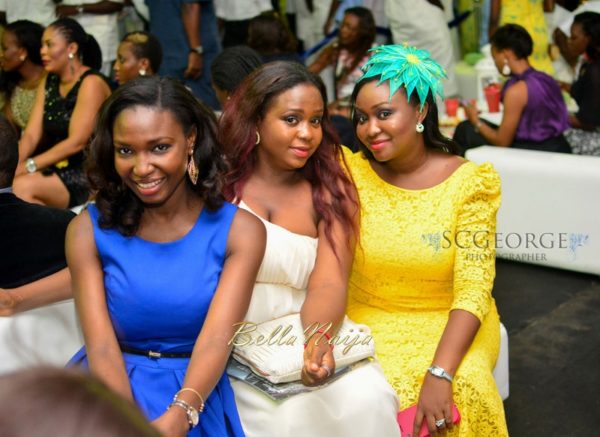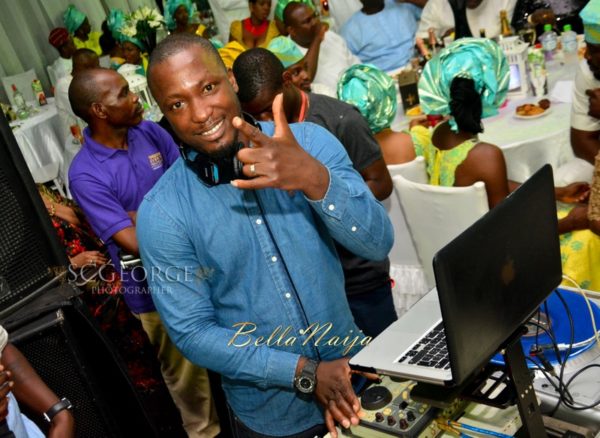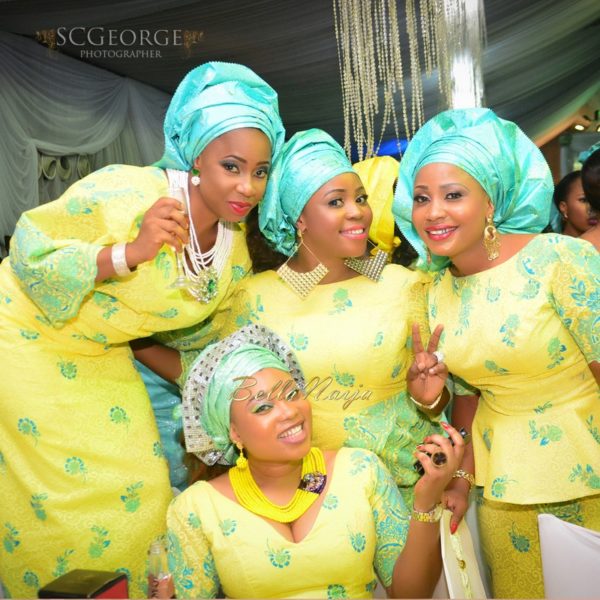 Traditional Engagement
"I wore a silver lace and aso-oke for my traditional wedding with royal blue and yellow highlights. I wanted to wear something unique yet breathtaking. I do not mean to blow my trumpet but my outfit turned out even nicer than I imagined and I fall in love with it over and over whenever I see the pictures."
Photography
SC George: info (at) hautemanevents.com | instagram.com/scgeorge1
DuduGuy Photography: info (at) duduguyphotography.com | instagram.com/duguguy1
Wedding Dates
Traditional Wedding: 17th of April, 2014 (also the bride's birthday)
White: 20th of April, 2014
Venues
Trad: UCH Multipurpose Hall, Mokola, Ibadan
White: The Haven Event Centre, GRA Ikeja
Wedding Colours
Trad: Peach
White: Yellow and Aqua
Wedding Attire
Traditional Makeup: Christine Creations | instagram.com/christine_creations
White Makeup: Banke Meshida for BMPro | instagram.com/banksbmpro
Hair: BMPro | instagram.com/bmpromakeup
Trad Attire (Aso-Oke): Ace and Caronx Aso Oke and More
Beads: Aisha +2347061016298
Groom's Suit: King Hakbal
Groomsmen: Kimono Kollections
Vendors
Wedding Planner: Zapphaire | instagram.com/zapphaire_events
Trad: Charlotte Cakes
White: Dainty Affairs
Cupcakes: Dainty Affairs
Decor: Dexterity Plus
Florist: Blossom Flowers
Bouquet: Bride
Food: Ademoj, Kaffy, Hot and Spicy
Drinks: Ice box, Noble drinks and Lakunle drinks
Desserts: Sweet Cravings
Cocktails: Mandies
Small chops: Larry Spice, Samo small chops, Hot and Spicy and Tayo Bambo
Mixologist: Gadafi
Cupcakes and sweets stand: The bride
Fish and Chips: Ma Kay and Ubalicious.