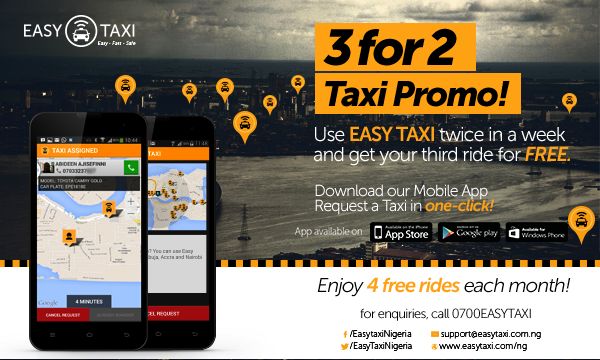 Nigerian Taxi Request Service – Easy Taxi Nigeria is offering active users in Lagos and Abuja a free taxi ride for every two rides taken within a week, starting from today.
This special offer is not limited to active users in Lagos alone but has also been extended to active users in the Federal Capital Territory, Abuja, where an Easy Taxi office was recently unveiled.
Although users are only eligible to one free ride per week, they still get to win discount vouchers, recharge cards and complimentary gifts by following Easy Taxi Nigeria on all social media platforms.
Speaking on the special promotion, Bankola Cardoso (MD, Easy Taxi Nigeria) said – "We believe our services meet the demand of commuters in the country in terms of consistency, efficiency and safety. It will be a delight if this special offer can encourage more people to download the app and make use of this service regularly."
All you have to do is download the Easy taxi Mobile App, request a taxi ride twice in one week and you get the third ride for free! Hurry and get going!
For convenience, those who spend more time on their computers can hail a taxi directly from the Easy Taxi Nigeria web app.
_____________________________________________________________________________
Sponsored Content