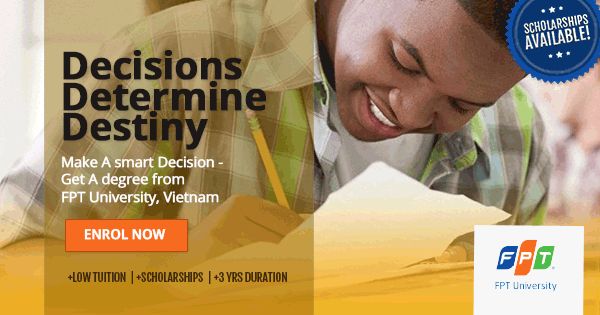 Are you thinking of getting a foreign degree? Do you want to earn a top quality degree that is almost guaranteed to get you jobs? If yes, then you need to read this.
FPT University, Vietnam, is offering scholarships (of between 15% to 50%) to qualified Nigerian and Ghanaian students to study for bachelor and masters degrees at its institution.
The school is set to provide a vibrant, creative and challenging environment in which to develop your potential.
To register for their free university exhibition taking place all over Nigeria & Ghana in August, simply Click Here. You will get instant admission and scholarship offers ranging from 50% to 15%. You can get degrees in courses like Software Engineering, Information System, Computer Science, Banking & Finance etc
At the event you will also meet representatives of FTP university in Vietnam who will attend to all your questions and enquiries.
Seminar Dates
Lagos
Date: Saturday 2nd August 2014
Time: 9AM
Venue: Diplomat Hotel, 1 Shonny Way, Shonibare Estate, Maryland, Lagos
Abuja
Date: Wednesday 6th August 2014
Time: 9AM
Port Harcourt
Date: Wednesday 13th August 2014
Time: 9AM
Akure
Date: Wednesday, 20th of August
Time: 9AM
Accra, Ghana
Date: Saturday, 16th of August
Time: 9AM
You can register now for free! Visit www.fptscholarship.com/ or call Nigeria: +234 8033919263; 09092352989 Ghana: +233266359444; Vietnam: 0084 983848966 or 0084 972922008
__________________________________________________________________________
Sponsored Content