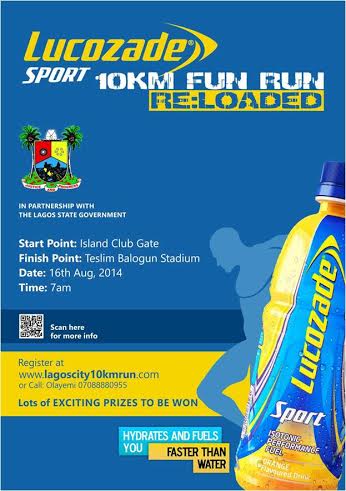 Are you ready to join in the Lucozade Sport 10 Kilimeter Fun Run Reloaded?
The event gives Lagosians the opportunity to have fun running to maintain a healthy lifestyle. GSK, makers of Lucozade Sport and the Lagos State Ministry of Youth, Sport and Social Development are collaborating to organize this event to provide a vent for health conscious Lagosians and fitness lovers to live out their passion in a secure and friendly event.
Dubbed the "Lucozade Sport Lagos City 10KM Fun Run", the event was started to target staff of blue chip organizations, businessmen and women, professional athletes and students of tertiary institutions who otherwise may not have all the time to keep fit through regular exercises at the gym.
According to the managing Director, GSK, Justin Korteasa – "the race which comes under our flagship sport engagement brand, Lucozade Sport is another contribution of GSK to the emerging Lagos Mega City concept. We have Route Plan that commences with a Start Point in Marina and having every runner converge on the Finish Point at Teslim Balogun Stadium".
Last year's edition was endorsed by the Lagos State Athletics Association as the technical partners. Participation in the event is expected to have teams from leading corporate organizations and professional marathon runners.
If you would like to participate, forms are already available at the Teslim Balogun Stadium, Lagos State Athletics Association, Rowe Park, Connect Marketing Office at Motorways, Alausa and online at www.lagoscity10kmrun.com.
Date: Saturday 16th August 2014
Time: 7AM
Venue: Start Point: The Island Club gate | End Point: Teslim Balogun Stadium
For more information you can call 07088880955
___________________________________________________________________________
Sponsored Content