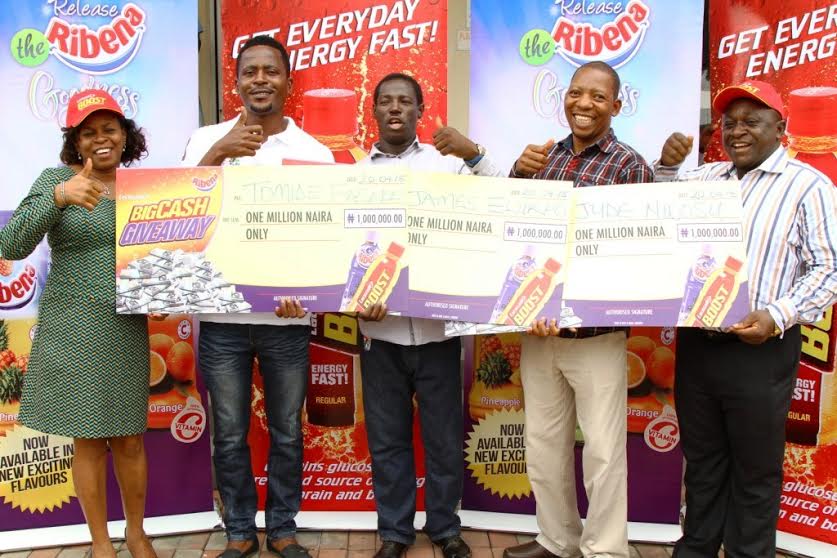 Do you see the three winners sporting those huge smiles? Well they are the latest millionaires in the Lucozade & Ribena Big Cash Giveaway Promo!
The prize presentation ceremony where they were presented their cheques held at GSK headquarters, with the winners and their families full of excitement as they thanked God for the  wonderful opportunity to become millionaires.
One of the winners, Tomide Fasade, who just finished his Youth Service recounted how he became of this whole process. He bought Lucozade Sport at a store in Ifako, Lagos where on the brand ambassadors at the store persuaded him to but more so he can get an extra ticket. That was the extra ticket that won him a million Naira.
1 million is a lot of money, so when asked what he would do with the money he replied – "I will use this money to expand my dog breeding business and save some for my  Masters Degree".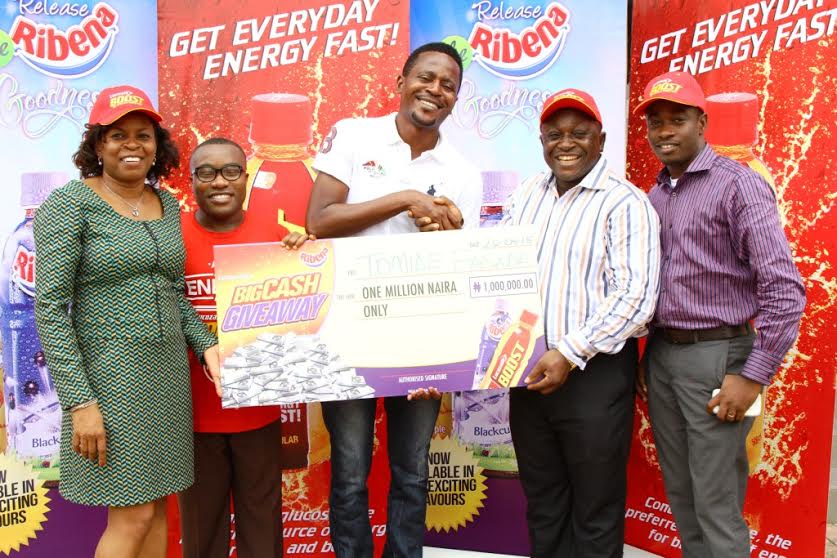 The 2nd winner, James Elukpo, who owns a recording studio, loves his Vitamin C, and that's why he drinks Ribena. He visited his usual store to buy a bottle and another brand ambassador at the mall told him about the promo. He was convinced and decided to buy 3 bottles of Ribena not knowing that would be his ticket to a million Naira.
He intends to use his money to set up a new business for his wife and expand his recording studio.
The third winner, Jude Nwosu, a husband and father who works in an IT Firm, bought 2 cartons of Ribena in s a supermarket in Ejigbo, Lagos. His ticket got him 1 million Naira and the opportunity to enhance his wife's business and pay for his 2-year-old son's school tuition.
Apart from the big millionaires, over 600 people have also won 10,000 Naira each from this promo.
Thanks to Lucozade and Ribena for this awesome experiences! People's lives are changing for the better within a short period of time.
If you participated and want to know if you are among the lucky winners, please call the toll free line 0800-GSK-CARE (0800-475-2273). You can also join the conversation on Twitter on #BigCashGiveAway.
________________________________________________________________________________________________
Sponsored Content