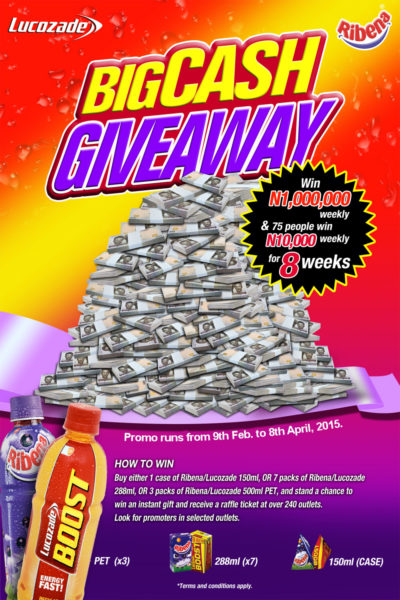 Are you ready to be one of the people to win cash from this promo?
The first millionaire in the Lucozade & Ribena #BigCashGiveAway promo will be chosen next week and we have the details on how you can participate as Lucozade and Ribena will be giving away 1 Million Naira to 1 winner every week for 8 weeks, and 75 people will also win 10,000 Naira cash prizes weekly.
All you have to do – if you are in Lagos, Calabar, Enugu, Port-Harcourt & Uyo – is visit the designated stores near you.
Winning is easy;
– From now till April 2015 buy either 1 case of Lucozade Boost/Ribena 150 ml, or 7 packs of 288ml or 3 packs of 500ml PET
– Look out for the Lucozade/Ribena brand ambassador in selected malls and you will receive an instant free gift and  a raffle ticket that qualifies you to win the cash prizes.
You can join the conversation on social media with #BigCashGiveaway
For more information about the Lucozade and Ribena promotion, please call the toll free line 0800-GSK-CARE (0800-475-2273)
___________________________________________________________________________________
Sponsored Content