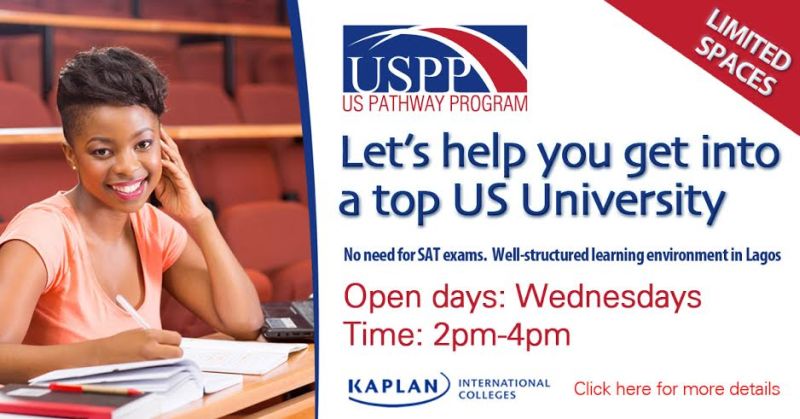 Kaplan International Colleges, which recruits and prepares students for entry to universities in the US and UK, has launched the US Pathway Program in Lagos in partnership with the Consortium of North American Universities, chaired by top ranking Boston-based Northeastern University.
The Kaplan US Pathway Program [USPP] is a competitive university preparation program for talented African school graduates looking to study for a bachelor's degree at a US university.
Designed by Northeastern University and based on rigorous academic standards, the Program's curriculum allows students to earn two thirds of the first year of undergraduate credits from Northeastern, ranked in the top 1 percent of American universities, while in Lagos. Students will then complete the final third of credits in a Summer Bridge program at either Northeastern University or the University of Vermont in the US.
Northeastern faculty designs the courses, creates the syllabi, sets learning objectives and creates assignments and tests. Kaplan International Colleges provides faculty, approved by Northeastern, to teach the courses at a brand new facility in Lagos, as well as administrative and student support staff. Faculty have access to Northeastern resources online.
On successful completion of the Program, students are guaranteed a place in the second year of an undergraduate degree at one of the institutions in the Consortium, including Baylor University, DePaul University, Marist College, Northeastern University, Stevens Institute of Technology, and the University of Vermont. Students will be able to progress to a broad selection of majors ranging from business and international relations, to medical sciences and engineering.
Students graduating from Kaplan USPP do not need to take the SAT and do not need to take the TOEFL. Kaplan International also offers successful students automatic visa processing for the US.
This is the second year of operations for Kaplan International College, operators of the Kaplan USPP in Nigeria.
All Kaplan faculty hold post-graduate degrees from American universities and teach in state-of-the-art facilities in Victoria Island. Students have access to Northeastern University's Virtual Learning Environment and online library, which holds more than one million books and journals.
For more information please call 0700 CALLKAPLAN (0700 22555 27526), 08181095522 or 08052903660. You can also send an email to [email protected]
__________________________________________________________________________
Advertorial – Sponsored Content