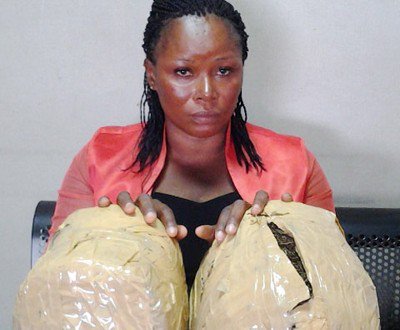 Ezeh Ifeoma Maureen, a 37-year-old mother of three, was arrested at Murtala Muhammed International Airport (MMIA) in Lagos for allegedly attempting to smuggle over 6 kilogrammes of dried weeds that tested positive for cannabis, to China.
Maureen was caught during passenger-screening procedures for a  China-bound Ethiopian Airlines' flight, The Nation reports.
When questioned about the contents of her luggage, she reportedly told National Drug Law Enforcement Agency (NDLEA) officials that they contained food items and vegetables.
Maureen, who is from Anambra State, has denied the drug trafficking allegations. She says:
"I am a business woman; I sell women's clothes at the Onitsha main market. I usually export foodstuff to China and import female dresses to Nigeria. One of my customers in China called to tell me that his brother would give me two parcels of vegetables to bring to him. I collected the parcels at the airport from the boy. Unfortunately, when they tested them, I was told that they contained cannabis."
Stating that Maureen could have been killed for drug trafficking in China had she not been caught in Nigeria, Chairman of the NDLEA Ahmadu Giade, urged Nigerians to desist from drug trafficking. He also warned travellers to avoid carrying goods on anyone's behalf, who wouldn't be present during airport screening procedures.
Photo Credit: The Nation