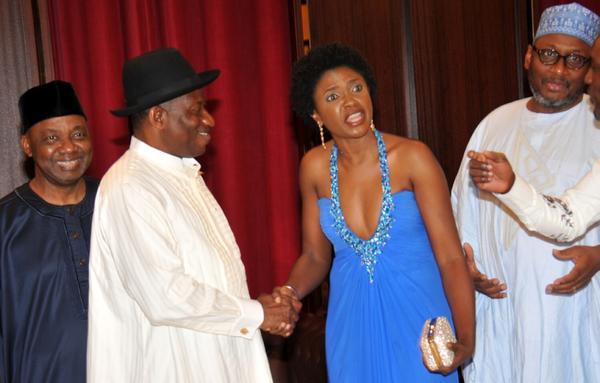 So, I started typing this as a comment in response to a certain Nollywood actress's own response to the flak she's been receiving about her style choice at a certain event (oh, who am I kidding; we all know who I'm talking about)However, I thought maybe it'll serve a better purpose as a post written for the greater good.
I'll just get right into my point.
Dear ladies (and gents too, because you also commit your own unique sins in this area), it's time we addressed a very important segment of getting prepped for any occasion. It's called "a wardrobe check" and the near flawlessness of your ultimate look depends on this essential exercise.
Too many times, (and not just when we're flicking through these BN pages but also in our daily lives), you see a gal or fella who's clearly glam'ed up with the intention of hitting major style notes, but it becomes difficult for us to focus on the overall picture because we're too distracted by the minor slips. These slips diminish what could have been a great outfit. Maybe you've been that gal or fella… no shame! I have my own hand in the air as I've gaffed a few times in my past.
A wardrobe check is literally that; with you standing in front of a mirror after you've gotten all your gear on and then inspecting, inspecting and inspecting. These inspections are to insure against the following:
Visible panty lines (or VPL)
This is a major fashion crime committed by many gals, and I know there are particular preferences for certain styles of underwear;  but when we can all see the outline of your bum being divided into sections because of those sexy bikini-type panties you're wearing underneath those fitted trousers… it's not a good look. And be ye not deceived by the promises which are sometimes offered by "seamless undies", "boy shorts", or even thong-styled underwear.
A little TMI coming your way now. I once wore this lovely wrap dress made from cotton jersey to attend an event and in my bid for "seamlessness", opted for underwear of the third kind highlighted above. However, as I was turning around to bend down for whatever purpose, I was kindly informed by another lady that the outline of my panties were very evident every time my dress stretched over my behind. So I spent the rest of the event worrying about keeping my backside out of view. I realized later on that because the panties were made of thicker cotton, I could have gotten away without any "revelation" of its existence if I'd worn wispy lace or such lighter material.
Little things like that can stop you for feeling like the glamorous chica that you aim to be so after dressing to slay in that pencil skirt/dress or those fab cigarette pants, stand in front of the mirror and assess that backside from all angles. That's right, you have it; you should feel proud to admire it. Or even better, get someone else to do that job for you, just to keep you well rounded and right. You'll be glad you did. 🙂
Spanx Showing Through Clothes
This is an almost similar approach to what's been said above. Remember that some fabrics just won't keep your secrets hidden. So if you're determined to be an hour-glass shaped vixen for that occasion, please choose the outfit wisely. Stay with thicker fabrics or find a way to line lighter fabrics so that you have enough layering against the outline of your spanx. Walk around in front of the mirror to see if "things" ride up and how the fabric of your outfit responds to that. Or you can simply invest in different types of spanx for different kinds of use… if you think that's worth your while.
Straining buttons on Shirts and Tops
I think the larger-chested ladies will agree that whenever they've got on a shirt with buttons, this happens. My very modest A-cups won't even contest with yours but you'll be surprised to hear it's a problem shared by all. Its genesis lies in the fact that we love our fitted shirts – ah! It must hug us in all the right (and un-sexy) areas. So we don't like to go a size up, mba! We buy the exact size and by the time we reach the buttons parallel to our chest, you can see the little plastic warrior struggling to stay in its button-hole, while the fabric on either side is parting like the red sea. This is where the necessity of reinforcing with pins comes in. Now, note that if the shirt is not your size at all (yes, you're a size 10 normally but your boobs have caused you to become a size 12 for shirts and there's no shame in going a size up for that reason). Please let it go, and substitute with something more appropriate. If you're just faced with some moderate gaping in the areas between buttons, as opposed to excessive straining, then you can do what I do and use office pins to hold the open bits together. However, make sure it's not so evident you're using pins – pin from the inside so that the metal doesn't show. If that's too much work, then please wear a camisole.
Underwear Unintentionally Flashing Through Outerwear
And I say "unintentionally" as I'm aware of such fashion revolutions as the one currently transpiring…where bras are boldly displayed under transparent clothes. If that's your thing, do you. If it's not your intention then I can understand that bad lighting in your room can deceive you into thinking your bra is hidden away from view, when it's not. What I advise is to take a handheld mirror to the window and do another inspection in natural sunlight so that you're sure. When in doubt, wear a camisole.
In a similar vein, one needs to address the issue of revealed bra straps. So, you want to wear a tank or a nice cami for that casual look or even a strapless dress/jumpsuit. Well, strapless bras are sold for a reason, you can't have one single bra for every occasion. And even when you think you can get away with wearing a regular bra, have you noticed the frayed straps recently? Or is it one of those old faithfuls which have run out of elasticity and keeps slipping down your arm? Even when you opt to wear a cami underneath that chiffon shirt, knowing the cami can't hide everything, why then is your neon green brassiere shining through it all? Honestly, colour coordinating your underwear to your outfit is not doing too much. And as a final note, some bras (like some spanx) are not designed to go undetected under certain fabrics. Wardrobe-check as required to see if everyone can trace the entire design of your lacy bra cup. You may need to swap bras if so.
Transparent Leggings (!!!!):
I wanted to treat this with the above sub-heading but thought it may be better thrashed out as a separate item. See ehn, the amount of women I've seen wearing leggings as trousers without understanding how the fabric works, has now stopped giving me pause for concern. I've seen all colours (and types) of female panties just parading to and fro on public streets, all in the name of pairing leggings with cropped tops. Leggings are not disco pants – many of them tend to be made with VERY light cotton (especially the ones usually sold in high-street shops) and you need to wardrobe-check those babies in the sunlight ALWAYS. Yes, I've also fallen foul of this and even though I was wearing a long top, I didn't appreciate how exposed my thighs were. So, I started shopping for thicker leggings but even those, I won't wear with cropped tops. Remember, the stretchy fabric doesn't drape elegantly over all sizes of bottoms. You should wardrobe-check both transparency of the leggings and how much covering you're getting out of your top.
Gaping Décolletages
The pertinent issue which brought all of this on. All I'll say is it can be sexy in the right environment and if you weren't aiming for sexiness in that particular environment you're appearing at, then please, subject that dress/top/kini to various manoeuvres in front of the mirror to determine how it's going to hold up. Bend, twist, turn, shimmy: do your physical wardrobe-check to see whether a boob or nip is going to jostle out of that deep neckline when you're posing for pictures in front of photographers with bad angling on their cameras. If in doubt, wear a cami. If a cami doesn't suit the style, change your dress, it's really not that difficult to guard against a faux pas like that unless you had other plans regarding your chest. And I think that's enough that needs saying.
That's all I have, although I never got round to the gents but that's the forte of that fellow's (can't remember his name but he's the dapper young man with a BN Style feature). Hopefully, I haff not vexed anyone too much. If it makes you feel any better, I'm sorry for anything which may be construed harshly; this actually came from a place of care. 🙂 Please share your tales of "walldrobe" malfunctions and lessons learned which you feel we can also glean wisdom from.