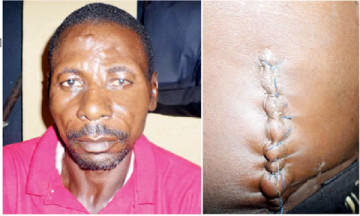 Phillip Katongu, a man who comes from Wamba, Nasarawa State, has been arrested by the operatives of the Department of Criminal Investigations, Yaba, Lagos for allegedly stabbing his wife to death.
According to the police report, his late wife Justina was stabbed in three places in their home in Oniru Estate, Maroko, Lagos.
Katongu revealed that he has a wife in Nasarawa, and the deceased was his second wife. He tried to commit suicide after killing his wife, but neighbours forced their way in and immediately rushed him to the nearest hospital.
He explains that his reason for killing was because she had infected him with HIV.
"I married Justina, my second wife in December 2010. I later learnt that she had given birth to two girls for a man. The girls died of AIDS.
However, when we first met, she did not tell me all these. I explained to her that I have a wife with children and I wanted to marry her too. Before marriage, I told her we should go to hospital to conduct HIV test, but she refused and said that she was HIV negative. So we started sleeping together."
She later told him about her status.
"I was angry and told the doctor who equally blamed her for not disclosing it to me. The doctor then tested me, and I was positive. We came back to Lagos and continued with the relationship because I loved her. But suddenly, she told me she wanted to pack out from my house that she was no longer interested in marrying me having had another person in Abuja. In fact, the man usually called her on phone while we were together.
I told her that with her status, she should not go and be infecting people with the virus. And that I will kill her and kill myself. We started fighting and I stabbed her. It was in the early hours. I stabbed her three times with a knife. She shouted and people were knocking at our door.
After she died, I stabbed myself, and the people broke the door open. I woke up to find myself in a hospital. I feel very bad that I killed my wife. I loved her very much."
The murder weapon has also been recovered by the police.
Punch was first to report the story.