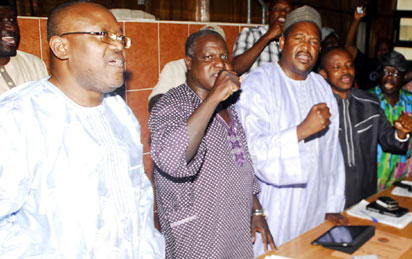 The Nigeria Labour Congress (NLC) is currently embroiled in controversy over the alleged disappearance of N400 million, which is part of contributions of Nigerian workers for a housing project.
The money is part of the sum of N960 billion allocated for a mortgage scheme for Nigerian workers, Vanguard reports. Sources say the project is being spearheaded by a private company in collaboration with NLC leaders and  a Greek national, and is aimed at providing houses for workers in the 36 states.
According to reports, the money mysteriously disappeared from one of NLC's bank accounts in a new generation bank in Abuja.
A suspect linked to the disappearance of the money was reportedly on the run, but was later apprehended by Director of State Service (DSS) authorities and released afterwards.
Investigations are still ongoing.
Photo Credit:  Vanguard