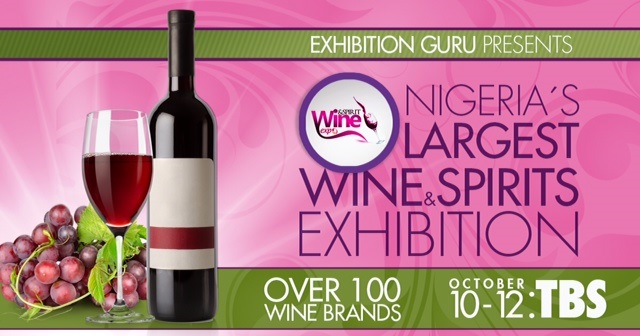 This October, the Wine & Spirits Expo will be holding in Lagos with over 100 wine & spirits brands showcasing their best blends.
Brands like Pernod Ricard (makers of Chivas, Absolut & more), Disaronno, Grand Oak, Aspire Wines, Campari world best Liquors and Mixers, Gran Cantina makers of Foss Marai wines, McNamara Wines, Skinnycocktail International Ltd, Vision Essence makers of Xenius Champagne Brut, Morcone Williams Brand, Voulez Wine Distribution, Linzi Liquors, Wine Crockery International, Mrpete World Class Sommerlier, Blends & Cocktail Mixers, Golden Rum Spirit & Liquors, Champagne Vollereaux, Organic Wines International, Sparta Sparkling Wines, Canto Wines and many more others will be showcasing their best at the exhibition.
The 3-day event will be filled with exploration of the labels, shopping and experiencing Lagos. So if you can savor the taste of good wine you are invited to indulge in this experience.
You will also have the opportunity to taste the best of wines for FREE, buy drinks at promotional rates,  get great deals on drinks, become a distributor of wines and spirits, get cocktail training, meet and network and more.
Are you a wine or spirit company or you fall close to the category? Then you have to be at the Wine and Spirit Exhibition. Get a booth by calling 09094821650, 07001111933, 08096448289 or 08147217096 | Add them via BB Pin: 265AD2F8 | Send an e-mail to: [email protected]
Date: Friday 10th – Sunday 12th October 2014
Time: 10AM – 6PM
Venue: Tafawa Balewa Square (TBS), Lagos
For more information, please visit www.wineandspiritexpo.com
Do not Drink and Drive. Call Metro Taxi for a ride if you intend drinking.
Wine & Spirits Expo is part of a group of 3 Expos which form the Mega 3 Expo. The other two – WED Expo and African Beauty Expo will also take place at the same time, same venue. The event is being organised by Exhibition Guru.
The official structure partner for Mega 3 Expo is Balmoral while the official logistics company is Metro Taxi.
__________________________________________________________
Sponsored Content