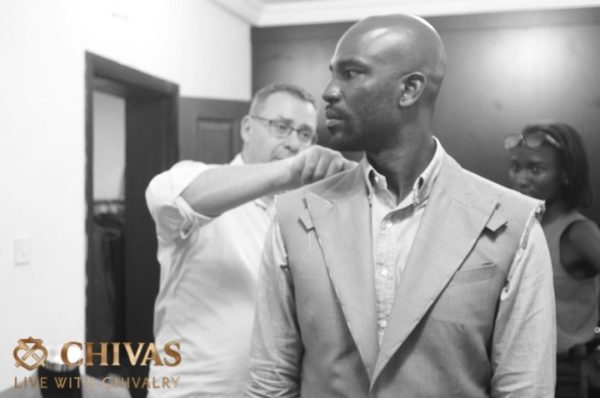 There are two things a gentleman adores, and that is a finely tailored suit and a luxurious tasting scotch.
Largely driven by imagery in popular culture (think male-centered television shows like Mad Men and Boardwalk Empire), the depiction of the man in an exquisitely crafted suit, styled to perfection is almost never complete without a glass of Whiskey as his choice drink.
This association with Whiskey and a finely tailored suit can be attributed to the similarities in the art of creating a luxurious blend or a bespoke suit. Case in point, Chivas Regal Whiskey and Savile Row suits, as both champion the finest craftsmanship and quality. Chivas and Savile Row share values and skills unbroken for over two centuries, representing contemporary symbols of discernment, quality and luxury.
Chivas' heritage dates back to 1801, when they pioneered the craft of creating the world's most coveted, smooth and rich blended whiskies. Similarly, Savile Row tailors have helped to establish London as the world capital of masculine style for over two centuries, with thanks to their unique and time-honoured skills.
Watch The Manifesto from Chivas Regal and Savile Row Bespoke below:
Enjoy a Taste of Luxury with Chivas. Buy Chivas12, Chivas18 and Chivas25 in select supermarkets and upscale bars across Nigeria and receive exclusive rewards that include:
An upgrade to the special Chivas Corner and be pampered with a Butler at your service
A luxury spa experience for two
VIP Tickets to priceless events (Concerts & Shows)
Instant Branded gift items
Available to persons over the age of 18.
Follow Chivas Nigeria on Facebook 
Follow @ChivasNG on Twitter
Follow @Chivas _NG on Instagram
_________________________________________________________________________________
Sponsored Content