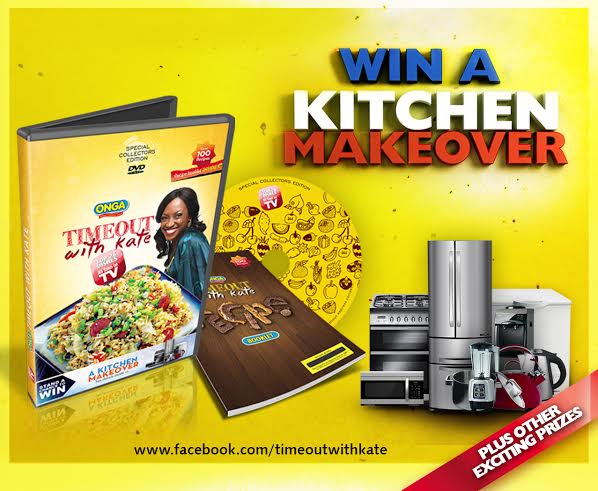 Cooking tips have never been easier to come by. With over 100 recipes to prepare wonderful meals all in one DVD & Booklet combined, it doesn't get any better than this. And that's not all, lovely kitchen makeovers are up for grabs with other lovely consolation prizes.
I'm sure you guys are wondering what we are talking about right? Kate Henshaw just released this lovely DVD pack which is a compilation of her TV program titled "Onga Time Out with Kate". The pack comes with a DVD that contains 26 episodes and a booklet that contains over 100 recipes. DVDs are available on Konga and also in Stores and Supermarkets Nationwide.
How to Enter
Get your copy of the book & DVD on Konga ( click HERE) or visit Supermarkets Nationwide to buy and stand the chance of winning a kitchen makeover and other lovely consolation prizes.
For more details on how to win these fabulous prizes, buy your copy and follow the instructions in the booklet.
The first winner of the kitchen makeover will be announced on the last Saturday of September – Saturday 27th September 2014  on E-weekly STV. Watch Out!
Visit www.facebook.com/timeoutwithkate or follow them on Twitter @timeoutwithkate for more details.