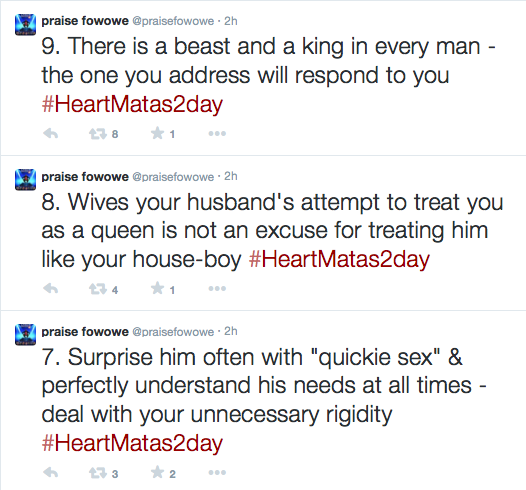 Praise Fowowe is a talk show host, author as well as a relationship and sexual educator.
He usually touches on the topics that society would rather shy away from and we are not surprised to see that on his Twitter page today he has shared his tips on the things that a 21st century wife should do to spice up a marriage.
Today he shared these 10 tips! Do you have more to add?
1. There are styles other than the "missionary" that couples can deploy in marriage and you must understand that #HeartMatas2day

— praise fowowe (@praisefowowe) October 16, 2014
2. A 21st century wife must dress to attract her spouse. #HeartMatas2day

— praise fowowe (@praisefowowe) October 16, 2014
3. Modern wives should invest in lingerie, perfumes and sexy attires that turn him on when you are alone #HeartMatas2day

— praise fowowe (@praisefowowe) October 16, 2014
4. Initiate sex regularly and seek to learn new styles that make a memorable experience for your husband #HeartMatas2ay

— praise fowowe (@praisefowowe) October 16, 2014
5. Be in touch with the latest fashion trends and understand your husbands' expectation and what puts him on/off #HeartMatas2day

— praise fowowe (@praisefowowe) October 16, 2014
6. Create time to always play with your spouse and pamper him/her the way he/she loves without any form of excuses #HeartMatas2day

— praise fowowe (@praisefowowe) October 16, 2014
7. Surprise him often with "quickie sex" & perfectly understand his needs at all times – deal with your unnecessary rigidity #HeartMatas2day

— praise fowowe (@praisefowowe) October 16, 2014
8. Wives your husband's attempt to treat you as a queen is not an excuse for treating him like your house-boy #HeartMatas2day

— praise fowowe (@praisefowowe) October 16, 2014
9. There is a beast and a king in every man – the one you address will respond to you #HeartMatas2day

— praise fowowe (@praisefowowe) October 16, 2014
10. Accord Ur husband royal treatment such that U don't ague or talk back @ him in public or in d presence of a third party #HeartMatas2day

— praise fowowe (@praisefowowe) October 16, 2014
Credit: Twitter | Praise Fowowe