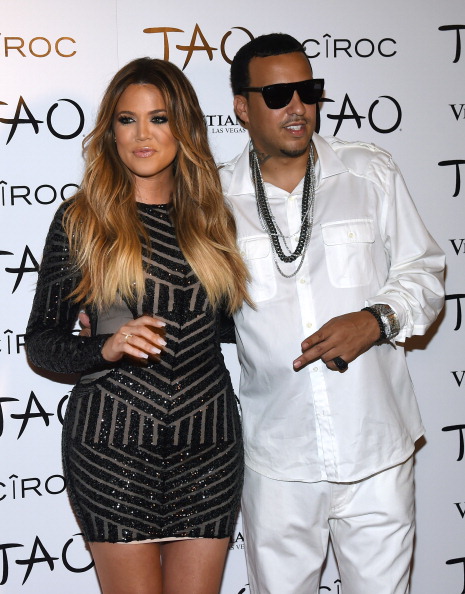 A few days ago French Montana was on 'The Wendy Williams Show' and he talked about his relationship with reality TV star Khloe Kardashian.
During the chat, French openly stated that Khloe Kardashian will always have a space in his heart so it comes as no surprise that the two of them may be back together after taking a break from their 8 month relationship back in September.
French and Khloe are back to doing 'coupley' things like giving a joint gift.
Rapper and producer P.Diddy took to his Instagram page to reveal one of his birthday gifts for his 45th birthday celebrated recently, a white Escalade given to him by French Montana and Khloe Kardashian.
He stated, "@frenchmontana AND @khloekardashian AND gave me a PEARL WHITE ESCALADE for my BDAY THANK YOU FRENCH AND KHLOE. LOVE #DIDDYBDAYPARTY #DIDDYBDAYPARTYLIVE,"
He later shared a video of him and French Montana toasting to the car with a caption 'I HAVE A PEARL WHITE ESCALADE NOW!!! THANK YOU @frenchmontana @khloekardashian #DIDDYBDAYPARTY #DIDDYBDAYPARTYLIVE.'
Earlier in the year Khloe Kardashian revealed that P.Diddy was the mutual friend who brought her and French Montana together so this grand gesture might be their way of thanking P.Diddy for the fixup.
Kim Kardashian hinted at their reconciliation a few days ago on Twitter with this tweet
I'm kind of obsessed with Khloe & French

— Kim Kardashian West (@KimKardashian) November 3, 2014
French Montana, whose real name is Karim Kharbouch, fits right into the Kardashian family.
Photo Credit: Instagram