How sweet is it to be birthday mates with your Papa! The cuteness and amazing sincerity of this post makes us cheese! It's a double dose of birthday happiness. BN Reader Onyi shares this beautiful tribute to her dad on their birthday. We love it and we wish Daddy and his girl a very happy birthday.
We hope you enjoy reading this as much as we did.
***
Happy Birthday to my dad & I
Happy Birthday to Onyi Joy and Onyi Joy's Father!
Happy Birthday to Mother (I was named after my paternal grandmother)
Happy Birthday to a Father and his Ada (I am the first daughter in my family).
It's my birthday today and my dad's birthday. I would like to gist you about my dad. He's such an amazing fellow.
My dad's name is Mr Ojobo Hyacinth his nickname is Fab (Fabulous). He was born in 1960 in Otukpo, Benue state. He attended St. Francais Secondary School Otukpo and graduated from Ahmadu Bello University Zaria In 1985.
I was born on my father's 29th birthday. There's no one I would rather share my birthday with. I love my dad so much for the sacrifices he has made to make sure we are comfortable. He gives us his all (outsiders see us and think we are so rich, they don't know it is just his sacrifice and we are content).
I remember few years ago when I insisted on schooling in the UK, my dad sold the land he inherited from his mother just to raise funds. I ended up not schooling in the UK. While I was depressed when I was denied visa he called me into his room, "Enem (My mother) you know If I were the UK embassy I would have issued you visa. This is beyond me. God has greater plans for You." Instantly my spirit was lifted 😀
My Dad loves my mum so much he has not left the shores of West Africa, but my mum has travelled around the globe. My dad has raised the standard of how a woman should be treated. Atimes I feel for the hubby that would fit into his big shoes. He raised me like a princess. The day he would walk me down the aisle(Bobo never show sef but em go show) I would cry a river. The bond we share is more than father and daughter I can't explain it's more like mother-son bond.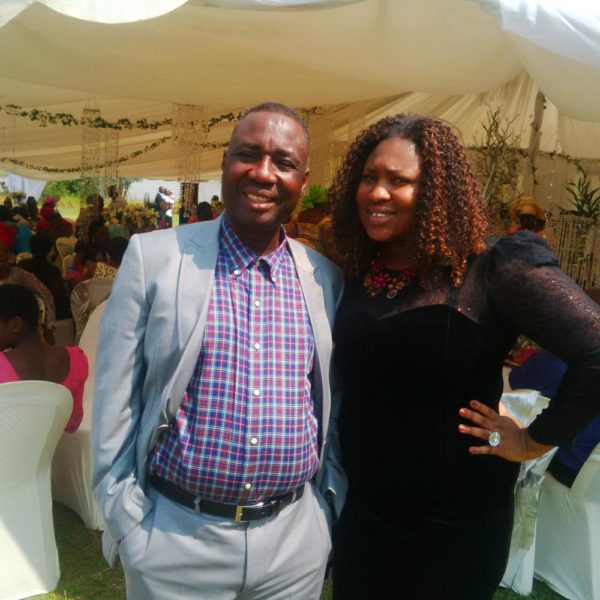 My dad loves God so much(He's not a spiri koko but he loves God).One early morning I woke up about 2am and I heard my father praying for me "Oh God I commit my first daughter into your hands…" I was moved to tears. I'm busy sleeping like a log of wood n my dad is interceeding on my behalf I started my own prayer. "Biko God! Please help me to make him proud not for my sake but for the sacrifices he has made" (In other gist, my dad just called at 6:34am to say "Happy Birthday!" and I wished him a "Happy Birthday too!" How many people get to experience that? We spoke for 30 minutes.)
My dad has an amazing humour. He can tease for Africa. If you don't know him you would get yourself worked up for nothing. He has a special name for all his children. He calls me "Enem" Ojis "Nicki Minaj". She's the fashion icon in my house. He calls my bro Ojobo, "Ojos". He calls Edugwu "Mozilla fire fire" She's one of his smart kids. He calls Onyeje "Supersonic". She's the SAN in the making. The day he calls you by your name you are in a very hot soup(Trust me you don't want to be in that soup).
My dad is so proud of us that no visitor leaves my house without him telling you of his children either the one In UI,UniLag,ABU or the one in Legon.
My dad would never miss any of his children's convocation for anything, because during his own time nobody attended and he felt so sad (He repeats that story everytime the need arises). He climbed Okada to beat the traffic just to be at the airport to be able to attend his son and daughter's convocation in Zaria on the 22nd of Nov( 3 of us graduated from the university this month. Christmas came early for my family).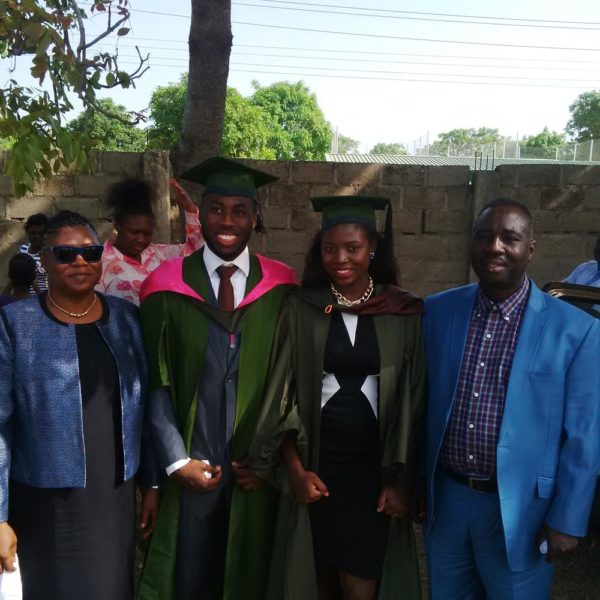 My dad does not want this age of social media to pass him by. He's active on Facebook (The friend request he sent to me is still pending) Whatsapp, BBM (He's my contact a sister has to mindful of the DP she uses). Just the other day he was asking me to open a Twitter account for him. (He would wait forever)
My dad is 54 today he's a teenager at heart. He's the type that attends "The headies" with his daughter and nieces and returns early hours the next morning. He's a big supporter of our local music. He listened to Kcee's Limpopo and was so excited started lecturing us on Geography. River limpopo is a major river in Africa. It is located in South Africa n flows through Mozambique to the Indian ocean.
My dad never ever gave up on me. I'm not like my younger siblings that finished secondary school and got admission into the University without hitches. I attended IJMB for 2 years. I was in a private university that had accreditation issues and he pulled me out and sent me to a university in a neighbouring country. Hmmm I even had a spill.
My beloved father was still there providing and encouraging. One day I called home to ask for money Edugwu his 'mozilla fire fire' said "Onyi! Daddy does not have, but he said because you are his Enem (mother) he would look for and send to you" I was weak to my bones.
My mum and siblings thinks my dad is partial or bias when it comes to my issues. When I have issues with anyone at home and they bring it before my dad to judge(Hehhheeheee my dad is a judge we have a mini court in my house… the parlour or his bed room) they say he ends up supporting me or the case ends up in my favour.Even when he tries to scold me they would say he doesn't mean it…that it's because they are there he's just pretending. They don't understand it's more than a father-daughter relationship. It's a mother-son thing.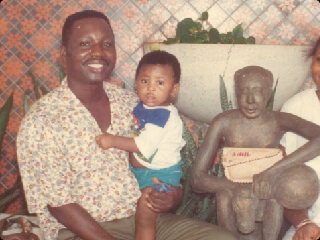 My dad is a great provider. Food never finishes from my house. Our store is always packed with different food stuff (Bags of rice,groundnut oil,frozen chicken,Fish,Milk,Milo) he buys from Lagos and sends to us in Abuja either by air or by road. It's not that we can't buy it in Abuja… that's just how he is.
In his very busy schedule, my dad had time to discipline and have fun with us. Growing up, my dad would hold beauty pageant for his daughters. He dares not announce a winner.:D Dad would force us to eat chinese soup and french loaves. I was the only one always eating my portion and that of my siblings. I would be so full that literally I couldn't breathe. With my bulging tummy, he would ask me to belly dance and I would dance with only my panties on. I would dance joyfully even while my mum, aunts and siblings are laughing. I did not care all I knew I was dancing for my Daddy.
As I wait as my dad to fly from Abuja to Lagos so we can celebrate our birthday quietly with 2 cups of Cold stone's ice cream and Domino's pizza. I pray almighty God grant us many prosperous years and sound health and also When I'm celebrating 50th birthday Daddy would be alive and so healthy to celebrate his 79th birthday In Jesus' name, Amen!!!
Sugars, wish my Dad & I a Happy Birthday. I love you all :* :*
Ps: Readers please don't mind the composure of my article,this is my first ever written article,I'm not a writer but I can gist for africa 😀