Dayo Adeneye: I'm Not Going into Politics to Make Money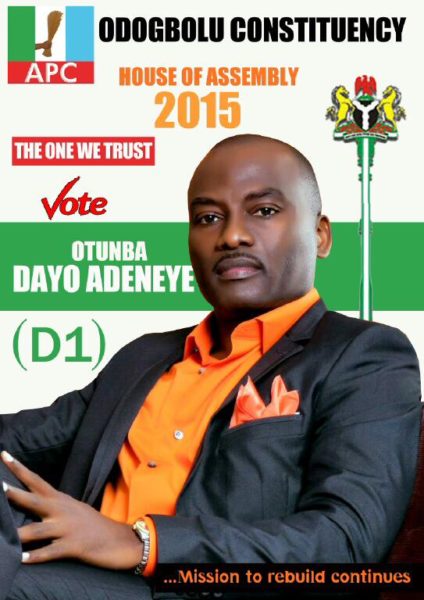 A few days ago showbiz personality & co-owner of Kennis Music, Dayo Adeneye, D1 announced his intention of joining politics in Nigeria and he stated that he will be contesting for a seat in the Ogun State House of Assembly.
With the number of Nigerian entertainers who have joined the political sector, a lot of people have started to wonder if there is an ulterior motive to their actions. Well Dayo Adeneye has come forward to refute that and state that he is not going into politics for the money.
According to Dayo, he is not motivated by money, but by the need to create a change and impact positively on his people.
Dayo Adeneye stated, "Anybody who knows me will testify that I made money when I was young. I was a millionaire in my 20s. I have built my houses. Kenny and I were among the first people in Nigeria to own Hummer Jeeps. We were also among the first to own the latest models of the Range Rover Sport Utility Vehicle. This is not about boasting; I have made my mark. I am not looking for money. Everybody knows my pedigree. I am a hardworking person and I have businesses in communication and hospitality. My campaign is funded from my private savings account. I am not depending on anybody to bankroll it. I am not begging anybody for funds, though my friends and my relations are willing to help. I am funding my campaign from my pocket. I am going into politics to serve. I have decided that, since my children are in the university, now is the time to help build my country. What future am I going to leave for my children if they have no country to come back to? So I am not going into politics for money. Look at the rot in this country. We cannot all just sit back in our sitting rooms and continue to complain that the country is not good; the roads are bad and the power sector is not working. Somebody has to come out and do something about these things. Now is the time to help solve the problems in my country. And this is why I am running for a seat in the Ogun State House of Assembly"
Source: Daily Post