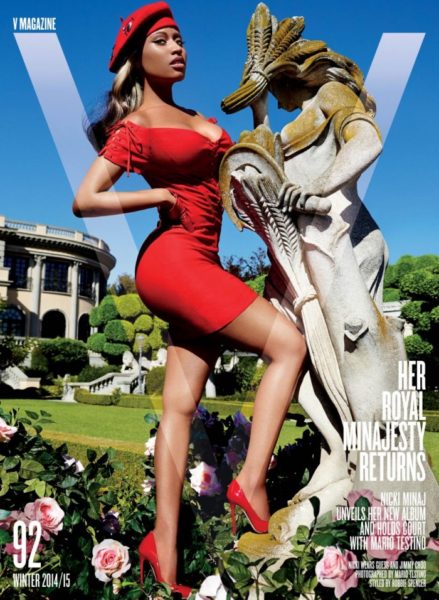 The magazine covers for December just keep on rolling in.
We have already seen Rihanna (click here if you missed it), Lupita Nyong'o (click here if you missed it) and Rihanna again (click here if you missed it). Now it is the sexy Nicki Minaj who has landed a cover for V magazine's December 2014 issue.
For the editorial and cover shoot Nicki Minaj is photographed by Mario Testino and styled by Robbie Spencer.
She talks to the magazine about always striving to be the best, "I always push the envelope, because I'm Nicki Minaj. I have to. No matter who I'm on a song with, I feel like I have to say at least one thing no one else is willing to say. Whether it's Madonna, Britney, or Beyoncé, they always tell me, 'Yes. Be Yourself. Talk your shit."
See more of her editorial spread and read her full feature on V Magazine.
Photo Credit: V Magazine