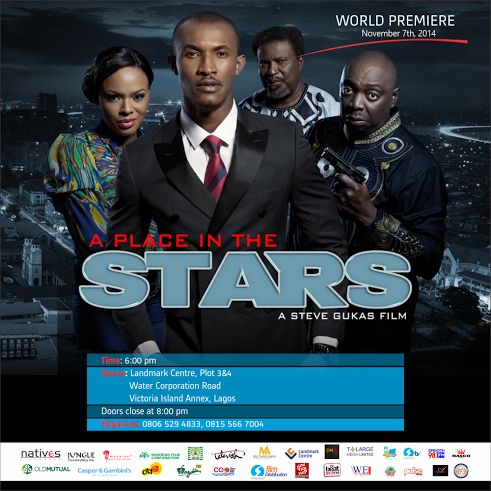 The much-anticipated feature film, "A Place in the Stars" premieres this Friday 7th November 2014!
Directed by the renowned film maker, Steve Gukas, "A Place in the Stars" is a riveting story of illicit drug trafficking, violence, turf wars and conscientious dilemmas. The movie is an account of one man's choice between conscience and the pull to get rich or die trying.
The grand event will hold at the Landmark Centre, Victoria Island, Lagos and will feature live music performance by music maestro and multi-instrumentalist, Jeremiah Gyang, and the crème de le crème of the entertainment, corporate, media and movie industries.
To win tickets to the premiere, simply answer this question:
– In the movie trailer, there was a conversation between a father and his two children. Who played the role of the father?
A. Yemi Blaq
B. Femi Branch
C. Dejumo Lewis
D. Gideon Okeke
Send your answers to [email protected]
For more information about A Place in the Stars, visit www.aplaceinthestars.com or follow on Twitter: @aplaceinthestar or on Facebook: www.facebook.com/aplaceinthestars
______________________________________________________
Sponsored Content