Yagazie of Gazmadu Photography (www.gazmadu.com) is the talented beauty behind many BN Weddings – click here to see them! She tied the knot with the love of her life Oziegbe recently and we're so elated to share their stunning wedding.
The warmth and chemistry between these two is so evident – after meeting at the tennis court, they have been the perfect love match. In everything from Ozi singing to her at the reception to their radiant smiles, you can feel the love.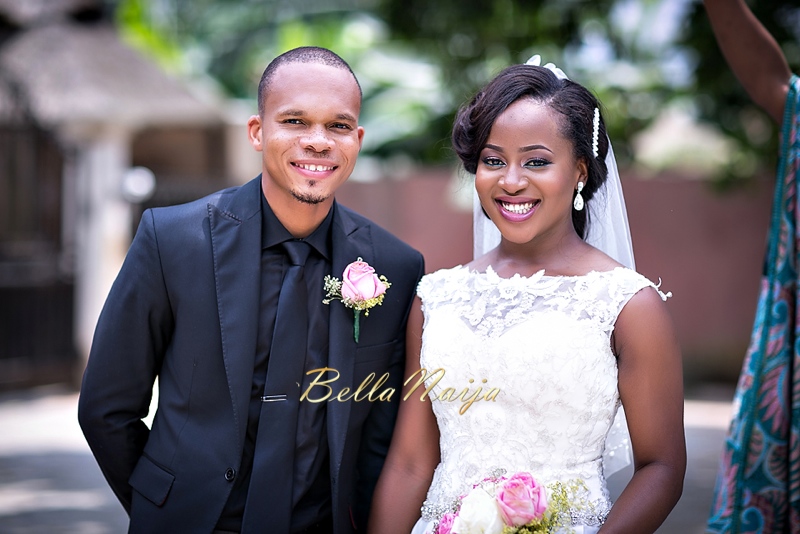 BellaNaija Weddings wishes Gaz & Ozi a beautiful and blessed married life.
***
How Did You Meet?
by the groom
We met on the Tennis court. I came in to play that day but I sat for a while watching "this girl" play. That was the first time I saw Gaz. We met again another day, and this time we hit a few balls together. Before we left the court, someone was trying to get her number; saw that as the opportunity I was waiting for to get her number. From then, we became friends.
Pre-Wedding Shoot by AkinTayoTimi
The Proposal
by the bride
We had a really quiet and romantic proposal. It was my birthday and we had planned to go out for dinner at a restaurant in Lagos to celebrate it later in the evening. While I was busy being excited and answering lots of phone calls I noticed Ozi was a bit uneasy lol. I kinda knew he was up to something…and I suspected it would be revealed during dinner, but I was wrong.
My birthday cake arrived just in time…and my usual self was moving around excited and taking pictures to put up on BBM…lol. Only to turn around, I saw Ozi kneeling behind me with the most beautiful ring! I said Yes with my night shirt and hair net while trying hard to fight the tears streaming down my eyes.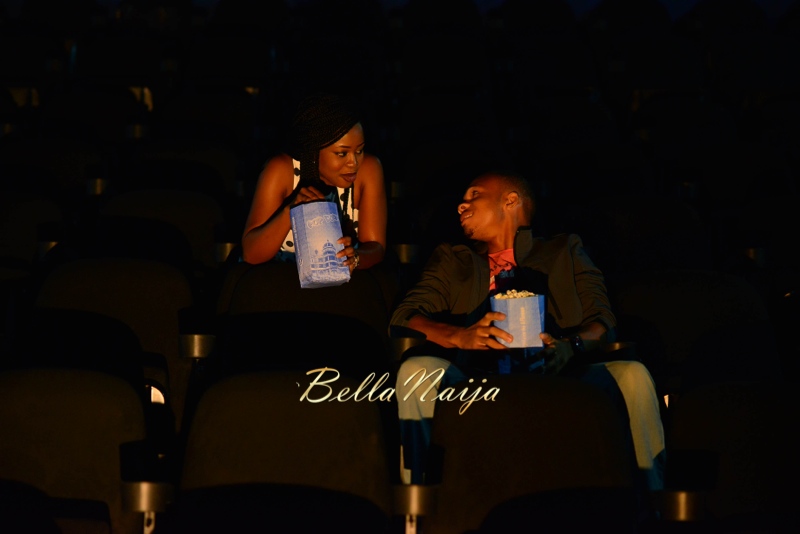 Advice for Other Couples
Pray about EVERYTHING and for all vendors
Try as much as possible to work with a budget you both agree on
Never underestimate the importance of Pre-Marriage Counselling.
Give yourself time to plan and start early.
Don't allow the challenges of wedding planning come between the two of you. Go through everything and make decisions together.
Once you've done your best, leave the rest to God and on your wedding day focus on eachother and ensure you enjoy EVERY bit of your day….it goes by sooo fast
Get a wedding planner or a Wedding Co-ordinator at least. ..you can't imagine the amount of stress they take off you.
***
Wedding Photographers: Aham Ibeleme | Emmanuel Oyeleke | Ademola Olaniran
White Wedding
"My wedding dress was by David Tutera. I made my final selection with the help of my sisters…after going through several online. I ordered it early enough, it came in 3 months before the wedding a perfect fit. No adjustments needed 🙂
My second outfit was by Zedd Couture."
Traditional Wedding
"I trusted my sister Ezinne of Zedd Couture with my traditional wedding outfits l. I knew the colours I wanted so we shopped for the fabrics together 6 months before the wedding.
I had a fitting once…thankfully, after a wedding shoot in Abuja.
I saw all I was to wear the day before the wedding and I was amazed at how they fit perfectly!"
***
Photographers
Aham Ibeleme | Instagram: @ahamibeleme
Emmanuel Oyeleke | Instagram @emmanueloyeleke | www.emmanueloyeleke.com
Ademola Olaniran | Instagram @ademolaniran
Pre-Wedding Photography: AkinTayoTimi | Instagram @akintayotimi | www.akintayotimi.com
Wedding Info
Dates
Trad Wedding: August 30, 2014
White Wedding: November 1, 2014
Venues
Traditional: Ehime Mbano, Imo State
White Wedding: St Leo's Hall, Toyin Street, Ikeja Lagos
Colours
Traditional: Mint Green and Orange
White: Blush Pink and Butter
Wedding Attire
Bride's Wedding Dress: David Tutera
Reception Dress, Bridesmaids Dresses and Bride's Traditional Outfits: Zedd Couture | Instagram: @zeddc
Bouquet: Michelle of Hampers Events | 08180531549
Traditional Wedding Beads for 2nd and 3rd outfits: Gbenga Artsmith |Instagram: @gbengaartsmith
Groom's All Black Suit: Mcmeka |Instagram: @mcmeka
Traditional Makeup, Hair & Gele: Tito of T.A'lamodemakeup | Instagram: @t.alamodemakeup
White Wedding Makeup: Tito of T.A'lamodemakeup | Instagram: @t.alamodemakeup
Hair: Onyinyechi Egeonuigwe | Instagram: @iloveonyinyechi Email: [email protected]
Vendors
Planners: Bride & Groom
Wedding Coordination: Ruby Fay Events Mgt | [email protected] | @rubyfayevents
Traditional & White Wedding Cake: Lolly's lieu cakes | 08057531582
Decor: Nwando's Signature | Instagram: @nwandossignature
Invitations: Renee Marcel | 08055219743
Food: Friendly Foods | 08099445169
Drinks: Hampers Events | 08180531549
DJ: GABBY CONCEPTS | 08036291155
MC: Xtreme Comedian | 08058583003