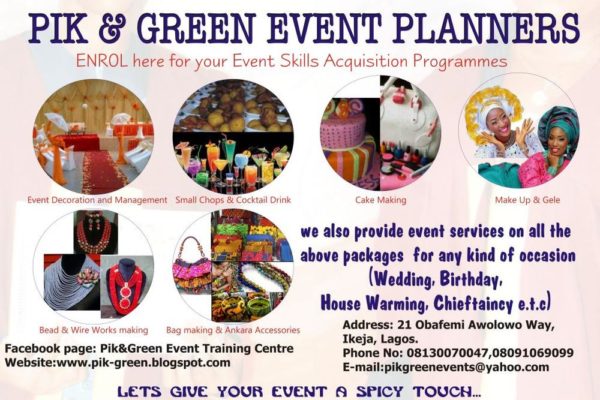 Are you a graduate, undergraduate or a working class individual who needs a Plan B to make money? Are you retired or a house wife in need of an opportunity to be self employed?
You can enjoy a 75% discount off training at the Pik & Green Event Training Centre.
This training is designed to build a well rounded foundation for individuals to acquire practical skills in different services related to the event industry. With the growth in the industry, there is a huge demand for major services to meet the needs of individuals everywhere.
The training program is designed to serve different categories of students with little or no knowledge in the course-specific areas.
These courses include;
1. Event Decor & management
2. Small Chops & Cocktail Drinks
3. Cake Making
4. Bead & Wire Works
5. Makeup & Gele Tying
6. Ankara Accessories making (Shoes & Bags)
Facilitators
Pik & Green has employed skilled and talented trainers that will give you value for your money and assist in ensuring you make the most of the training.
Internship
They have also provided the opportunity for interested full-time students to intern with reputable organisations in the field  and others to get trained for further networking and more business ideas.
Registration
The registration forms will be available at the training centre at No. 21 Obafemi Awolowo Way, New Garage Bus Stop, Ikeja, Lagos.
Training Duration
– 6 Weeks
– 12 Weeks
For more information please call 08130070047 or 08091069099
_____________________________________________
Sponsored Content