Hello Tripican Fam!
Thank God It's Friday! Today is really special as Tripican.com reveals the top 20 most anticipated movies that will hit cinemas this 2015!
Guess what? You can get a chance to win a couples ticket if you guess the #1 movie!
With exciting and thrilling movies lined up for your viewing pleasure, you can hang out with family and friends at the cinemas in 2015! Kids are obviously not left out of the fun!
Tripican has released Part 1 today, and Part 2 and 3 will be released on Saturday 31st January, Monday 2nd and Tuesday 3rd February 2015 respectively.
Are you ready to have an amazing year filed with awesome movies with Tripican.com in 2015? It begins today with "American Sniper" and "The Department"!
Rate the trailers! Tell us which movie you think will the best in 2015.
20. The Department
Watch The Department Trailer

Director: Destiny Ekaragha
Cast: Desmond Elliot, Majid Michael, Osas Ighodaro, Jide Kosoko, O.C Ukeje, Kenneth Okolie, Seun Akindele, Somkele Iyamah
In Cinemas: Friday 30th January 2015
Buy Tickets: http://tripican.com/movies/showtimes/350_the_department.html
19. Inside Out
Watch the Inside Out Trailer

Growing up can be a bumpy road, and it's no exception for Riley, who is uprooted from her Midwest life when her father starts a new job in San Francisco. Like all of us, Riley is guided by her emotions – Joy, Fear, Anger, Disgust and Sadness. The emotions live in Headquarters, the control center inside Riley's mind, where they help advise her through everyday life.
As Riley and her emotions struggle to adjust to a new life in San Francisco, turmoil ensues in Headquarters. Although Joy, Riley's main and most important emotion, tries to keep things positive, the emotions conflict on how best to navigate a new city, house and school.
Director: Pete Docter & Ronaldo Del Carmen
Cast: Diane Lane, Amy Poehler, MacLachlan
In Cinemas: Friday 19th June 2015
Quentin Tarantino is back with another epic. If you do not know Quentin Tarantino, go see Django Unchained, Pulp Fiction, Kill Bill and Inglorious Bastards.
In post-Civil War Wyoming, bounty hunters try to find shelter during a blizzard but get involved in a plot of betrayal and deception. Will they survive?
Director: Quentin Tarantino
Cast: Channing Tatum, Walton Goggins, Samuel L. Jackson
In Cinemas: Friday 13 November 2015
17. Terminator Genisys
Watch the Terminator Genisys Trailer

The Big Man is back and he's brought some fantastic talents with him including Emilia Clarke of Game of Thrones fame, Jai Courtney of Spartacus fame and J.K Simmons.
After finding himself in a new time-line, Kyle Reese teams up with John Connor's mother Sarah and an aging terminator to try and stop the one thing that the future fears, "Judgment Day".
Director: Alan Taylor
Cast: Arnold Schwarzenegger, Emilia Clarke, J.K Simmons, Jai Courtney
In Cinemas: Wednesday 1st July 2015
16. Minions
Watch the Minions Trailer

The coolest cartoon characters since Mickey Mouse. Think we are lieing? Ask a little kid.
Minions; Stuart, Kevin and Bob are recruited by Scarlet Overkill; a super-villain who, alongside her inventor husband Herb, hatches a plot to take over the world.
Director: Kyle Balda & Pierre Coffin
Cast: Chris Renaud, Pierre Coffin, Michael Keaton
In Cinemas: Friday 10th July 2015
15. 50 Shades of Grey
Watch the 50 Shades of Grey Trailer

We haven't seen a romantic movie so hyped and so in demand since Titanic. This is really going to be a steamy blockbuster ride.
Literature student Anastasia Steele's life changes forever when she meets handsome, yet tormented, billionaire Christian Grey.
Director: Sam Taylor-Johnson
Cast: Dakota Johnson, Jamie Dornan, Luke Grimes
In Cinemas: Friday 13th February 2015
14. American Sniper
Watch the American Sniper Trailer

The most talked about and the most controversial war movie also broke awards and blockbuster records.
Navy SEAL sniper Chris Kyle's pinpoint accuracy saves countless lives on the battlefield and turns him into a legend. Back home to his wife and kids after four tours of duty, however, Chris finds that it is the war he can't leave behind.
Director: Clint Eastwood
Cast: Bradley Cooper, Sienna Miller, Luke Grimes, Jake McDorman
Buy tickets now at http://tripican.com/movies/showtimes/344_american_sniper.html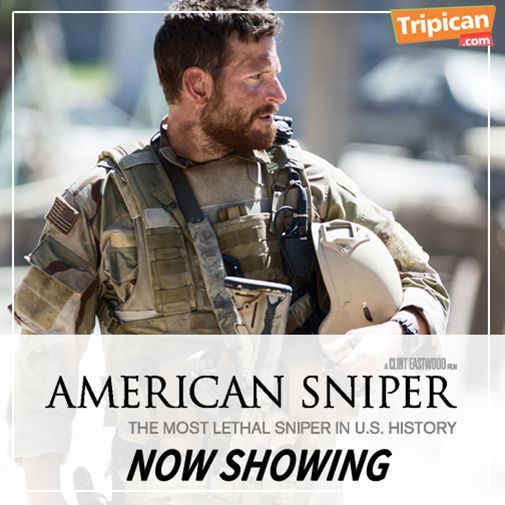 For more information as to release dates, visit www.tripican.com and sign up for our weekly newsletter! You do don't want to miss out!