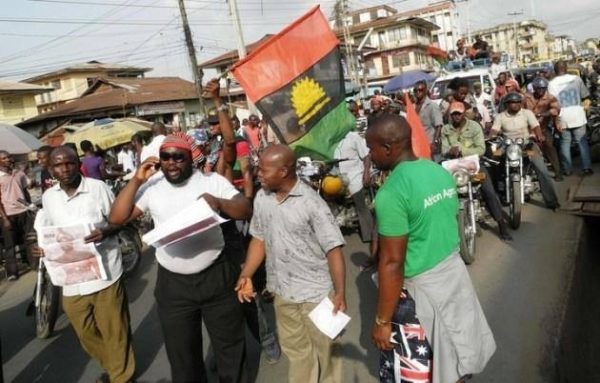 The Federal High Court sitting in Enugu on Thursday refused bail to 11 members of Biafra Zionist Movement who allegedly attempted a secession.
The accused persons, who are facing a four-count charge, had pleaded not guilty to the charges on their first appearance in court.
In her ruling, Justice D.V. Agishi said that the court could use its discretion in deciding whether or not to grant the bail but that the degree of their offenses was grave.
Agishi also said that the fragile political situation in the country made it imperative for the court not grant them bail.
"Having gone through the applications of both parties, it is the responsibility of this court to avoid violence in this nation though the court still presumes the accused persons innocent.
Because this group's activities involved violence and due to the very fragile situation in the country, the court will not grant them bail.
The Biafra Zionists is a violent movement with the intention to make a live broadcast on the alleged secession of Biafra,'' she said.
Agishi said that in the course of their protest, lives had been lost which included a policeman and one of the members of the movement.
The judge added that the group's plan was to jeopardise the corporate existence of the Nigerian nation by raising Biafran flag at the Enugu Government House and posting write ups in the internet.
She said that because the country was in a very fragile political period, the court would not allow the activities of the group to continue.
The judge adjourned the matter to March 19 for commencement of their trial.
Those facing the trial include Benjamin Onwuka and Ndubisi Nnamchi, both of Enugu North Local Government Area and Kelvin Ekeh of Enugu East.
Others are Japhet Nwodo, Fidelis Nwosu, Paulinus Uzoegbu, Sunday Chukwuma, Uduma Uduma, Betrand Obiekwe, Abraham Ugwu and Samson Ijaga, residents of Anambra.