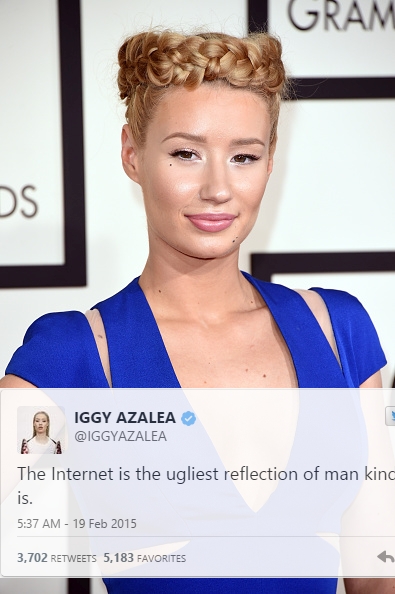 For the past few weeks on Twitter Iggy Azalea has been at the receiving end of a lot of feuds.
Azealia Banks, Jill Scott, Eve and many more have had twitter feuds with Iggy Azalea in the past few weeks and she has been used for several Internet memes.
The post recent attack came when pictures of her on holiday surfaced and fans were quick to point out her cellulite.
In a series of tweets, she explains why she is going off social media
Just got back from a great vacation, came online and saw apparently it's shocking and unheard of to be a woman and have cellulite. Lol.

— IGGY AZALEA (@IGGYAZALEA) February 19, 2015
I just want to have peace and relaxation time without a perve with long distance lense hiding out taking pictures, everyone deserves peace.

— IGGY AZALEA (@IGGYAZALEA) February 19, 2015
I feel the hatred and pettiness i see online at all times is at making me become an angry person and I cannot be that.

— IGGY AZALEA (@IGGYAZALEA) February 19, 2015
To become nasty because of the way I feel iam treated would be a disservice to my fans and I promise i will try to keep smiling.

— IGGY AZALEA (@IGGYAZALEA) February 19, 2015
But I also want to let my fans know iam taking some time away from social media. I need to be happy and it is too negative and draining.

— IGGY AZALEA (@IGGYAZALEA) February 19, 2015
My management will tweet/run my accounts from today onwards with updates etc unless any message is signed -IA. Love you all. Peace out!

— IGGY AZALEA (@IGGYAZALEA) February 19, 2015
The Internet is the ugliest reflection of man kind there is.

— IGGY AZALEA (@IGGYAZALEA) February 19, 2015

Photo Credit: Getty Images