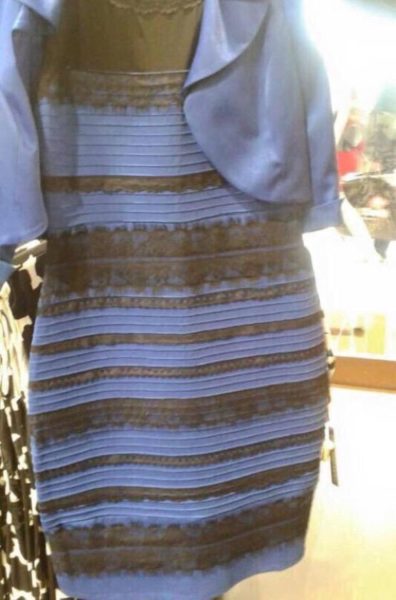 When social media gets on a trend it goes hard.
Over the past few hours everyone on Twitter, Instagram, Tumblr, Facebook and more social media sites have been talking non-stop about the colour of this dress.
People are debating about whether its is black and blue or if it is white and gold.
This debate has gotten so heated that celebrities have gotten involved, with Kanye West, Kim Kardashian, Taylor Swift, Julianne Moore, Kat Dennings, Justin Bieber, Sarah Hyland and more weighing in.
And for everyone asking I see blue and black

— Justin Bieber (@justinbieber) February 27, 2015
Straight up y'all…… I found out how to see blue and black instead of white and gold and now I can't see anything but blue and black.

— Janelle Arthur (@JanelleOArthur) February 27, 2015
Very confused like the rest of the world, it looks white and gold and a few mins later black and blue? #dressgate pic.twitter.com/O3f1TBhEiV

— Benji Rom (@benjirom) February 27, 2015
Major news sources like CNN, Fox, Dailymail have also joined in the debate.
BNers – for us we see a white and gold dress, but blue and black as well.
Here's a trick … if you're on your desktop and you see white and gold, gradually tilt your screen backward and you'll see black and blue.
…what do you see?
Photo Credit: Twitter