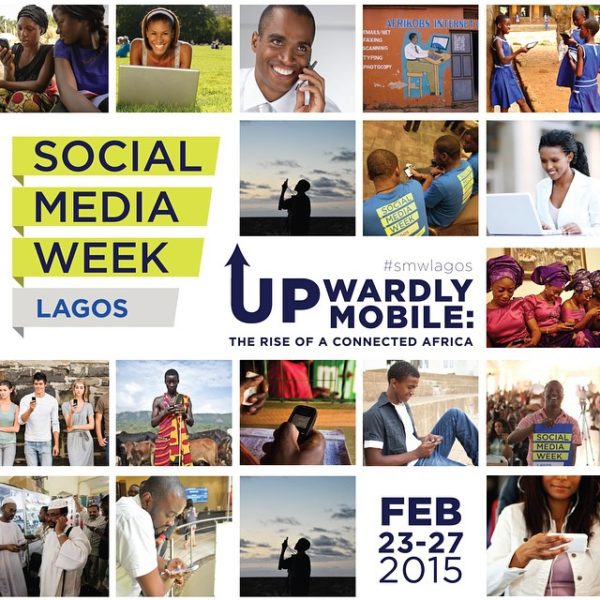 Social Media Week Lagos 2015 has been so much fun. Time has flown by so fast! It's hard to believe that today is the final day of the event.
Here's the lowdown on activities for Day 5 of the event.
If you think  #SMWLagos has been amazing so far – wait until you see what's coming up today.
To register or find out more info, click HERE
First Bank presents Beachfront Bon Voyage to #SMWLagos 2015 Breakfast
Time: 8:30 AM – 10:00 AM
Hosted by: Social Media Week Lagos
Venue: #CIROClife Lounge @ SMW Lagos Campus
#SMWFootball: Nigeria, Super Eagles, Social Media & the Future of Nigerian Football
Time: 8:45 AM – 10:15 AM
Hosted by: EkoFootball & Gbamm!
Venue: Landmark Centre – SMW Experience Stage
Writers' Workshop: Avoiding Plagiarism In Our Evolving Digital Landscape
Time 9:00 AM – 10:15 AM
Hosted by: Enterprise Creative
Venue: UBA Executive Suite @ SMW Lagos Campus
The Power of Data: Re-marketing in an Ever Increasing Content Driven Society
Time: 9:00 AM – 10:15 AM
Hosted by: Alpha and Jam
Venue: Landmark Centre – SMW Masterclass Suite
FirstBank Presents Inspiring Possibilities #WhatIf
Time: 10:00 AM – 11:00 AM
Hosted by: FirstBank
Venue: Pencom Innovators Stage @ SMW Lagos Campus
#SMWLagosExplore: #Getlocal at The Lagos Garage
Time: 10:00 AM – 11:00 AM
Hosted by: The Lagos Garage
Venue: Lagos Garage
#SMWLagosExplore with PAGA! Transforming Lives: The Story of An African Start-up
Time: 10:00 AM – 12:00 PM
Hosted by: Paga
Venue: PAGA
#SMWLagosExplore with PIN! Behind The Scenes
Time: 10:00 AM – 12:00 PM
Hosted by: Paradigm Initiative Nigeria
Venue: PIN HQ
The Art of Connectivity & Retention
Time: 10:00 AM – 2:00 PM
Hosted by: Alexis Consult Nigeria Limited
Venue: Stranger
#SMWLagosExplore: Andela! See the Future of Africa's Tech Talent Ecosystem
Time: 10:00 AM – 11:30 AM
Hosted by: Andela
Venue: Andela
#SMWFootball: Connecting Fans: Harnessing The Commercial Potential of Nigerian Football
Time: 10:30 AM – 11:30 AM
Hosted by: EkoFootball & Gbamm!
Venue: Landmark Centre – SMW Experience Stage
#FreelanceFriday SMW Lagos Edition: Taking Your Business Mobile
Time: 10:45 AM – 12:00 PM
Hosted by: Enterprise Creative
Venue: UBA Executive Suite @ SMW Lagos Campus
#SMWFootball: Social Responsibility in Africa: 'The Beautiful Game' Film Screening
Time: 12:00 PM – 2:00 PM
Hosted by: EkoFootball, Africa10 & Gbamm!
Venue: Landmark Centre – SMW Experience Stage
The Mentor Magnet: How To Attract Your Dream Mentors Without Chasing After Them
Time: 12:30 PM – 1:45 PM
Hosted by: Precepts & Mentors
Venue: Landmark Centre – SMW Masterclass Suite
The Art of 'Design Thinking'
Time: 12:30 PM – 1:45 PM
Hosted by: Aziza Design Ltd
Venue: UBA Executive Suite @ SMW Lagos Campus
#smwLagosExplore: CapitalSquare – Making Business Better With Connected Coworking
Time: 1:00 PM – 3:00 PM
Hosted by: CapitalSquare Lagos
Venue: CapitalSquare Lagos
#SMWFootball: Bafana Bafana! Social Networks & Culture + South African Football & The 2010 World Cup
Time: 2:00 PM – 3:00 PM
Hosted by: EkoFootball & Gbamm!
Venue: Landmark Centre – SMW Experience Stage
Where Are the Women? (Examining the Lack of Women Developers in the Nigerian Technology Ecosystem)
Time: 2:15 PM – 3:30 PM
Hosted by: Women's Technology Empowerment Centre (W.TEC)
Venue: Landmark Centre – SMW Masterclass Suite
#SMWFootball: Ladies First! Social Media & The Future For Women In Football
Time: 3:15 PM – 4:15 PM
Hosted by: EkoFootball & Gbamm!
Venue: Landmark Centre – SMW Experience Stage
Careers in Interior Design
Time: 4:00 PM – 7:00 PM
Hosted by: Inu Design, iDesign by Tola Akerele, CC Interiors Studio, Blue Mahogany
Venue: To Be Announced
African Technology Entrepreneur – 10 Questions to Validate Your Startup!
Time: 4:00 PM – 5:15 PM
Hosted by: COSIGN
Venue: Landmark Centre – SMW Masterclass Suite
The Y! #Tech100 Networking
Time: 4:00 PM – 7:00 PM
Hosted by: Y! Africa
Venue: Terra Kulture
#SMWLagosNites: PING! PONG! LAGOS!
Time: 5:00 PM – 10:00 PM
Hosted by: Imaginarium Limited
Venue: N-TYCE
Evolving Media: Traditional Print to Web, Mobile & Social Apps with Complete Sports & Brila FM
Time: 5:45 PM – 7:00 PM
Hosted by: Complete Communications Limited
Venue: Landmark Centre – SMW Masterclass Suite
#SMWCocktails-N-Convo Friday
Time: 6:00 PM – 8:00 PM
Hosted by: Ciroc
Venue: #CIROClife Lounge @ SMW Lagos Campus