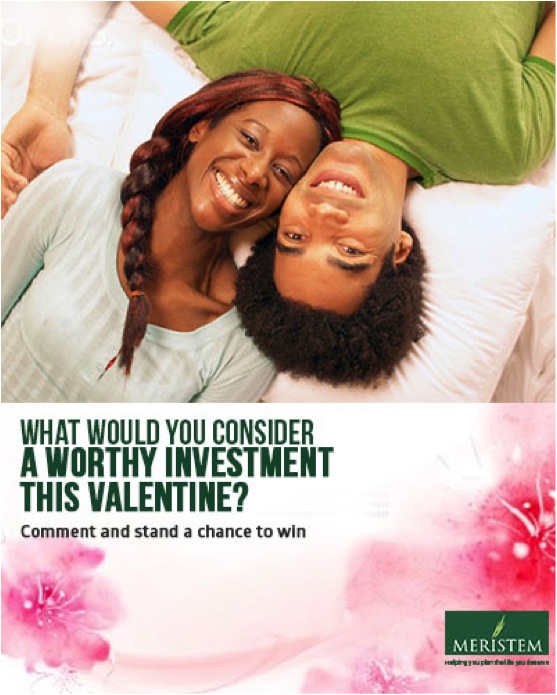 It's that time of the year again! The season of love. The time to celebrate with that special person. It's also a time also synonymous with lots of spending.
So, we at Meristem would like to know what you would consider a worthy investment this special season.
How to Participate
* Join the conversation by commenting on this photo on the Meristem Facebook page – http://bit.ly/meristemVal. Let's hear what you have to say!
* You stand a chance of winning great prizes simply by commenting on this photo – http://bit.ly/meristemVal.
* Get as many likes for your comments as you can
We want to reward you – our loyal followers by helping you become investment savvy.
MeriTrade is the first online stock broking platform in Nigeria. An innovative stock broking product that offers easy to use online stock broking services at a competitive price. It empowers individuals to take control of their financial future by providing the platform, tools and services needed to meet their short and long term investment goals.
Click here find out more about MeriTrade: www.meritrade.com
Winner Selection & Conditions
All eligible entries received during the Submission Period of February 10, 2015 and February 14, 2015 6PM West African Time will be gathered into a database at the end of the Contest Period. The winners will be selected by a panel of judges as follows:
Your comment must include #MeristemValentine #MeristemNigeria.
The star prize goes to the user whose contribution gets the highest number of likes by 6pm on Friday when the competition closes. Where there is tie, we will randomly pick one.
The four other winners will be randomly selected based on their number of likes as well.
The Star Prize is N20,000 credit into winner's MeriTrade account + movie tickets for two.
4 Other Winners get N10,000 credit into MeriTrade account for each winner + movie tickets for two.
Terms & Conditions
Please note that the MeriTrade accounts of winners will be credited with the said amount once the winners provide us with the necessary KYC documents required for the operation of same. Also, the accounts will have to be active for a period of 3 months before winners can deplete the value of their accounts as the intent is to help you become investment savvy.
Meristem Securities Limited reserves the right to change the winner selection method at its sole discretion.
Announcement that an entrant was selected will be sent to the email address of winners. Each entrant is responsible for monitoring his or her email account for notification and receipt or other communications related to this contest. The winners will be announced by Monday 16th, 2015 on or about noon WAT.
Click here find out more about MeriTrade – www.meritrade.com
______________________________________________________________________
Advertorial – Sponsored Content