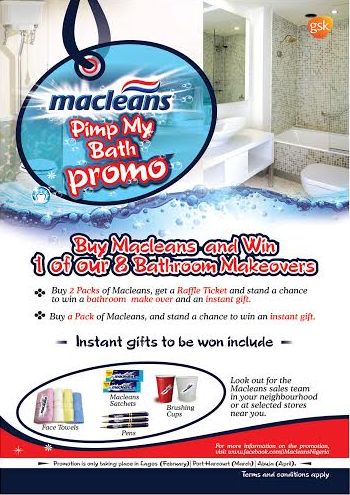 How would you like to have a makeover? Not just any makeover – a bathroom makeover! Sounds exciting, right?
Macleans is set to excite it's consumers with amazing bathroom makeovers in the Macleans 'Pimp My Bath' Promo and loyal consumers of Macleans toothpaste are in for a treat. Macleans is changing your bathroom in a more exciting way with exquisite bathroom accessories and an ultimate makeover.
Participation is simple;
For those who live in Lagos, Abuja or Port-Harcourt simply purchase two 125ml tubes of Macleans toothpaste from the roving sales team or in selected stores and get a raffle ticket in addition to an instant branded gift item.
The raffle ticket qualifies you for the raffle draw and you stand a chance to win the ultimate prize of a bathroom makeover.
Hey, other cities are not left out…simply log on to their Facebook page: www.facebook.com//MacleansNigeria and follow 3 easy steps;
Step 1: Purchase 2 tubes of Macleans 125ml toothpaste.
Step 2: Like the Face book page and upload a selfie with the purchased packs.
Step 3: Get your friends to like your picture. The picture with the highest number of likes at the end of the campaign wins.
Remember, for every pack of Macleans that you buy, you get an instant gift item. So what are you still waiting for? Get your Macleans, and start winning in the Macleans "Pimp My Bath" promo!
You can join the conversation on Twitter using the hashtag #MacleansPMB or visit the Macleans Facebook page at: www.facebook.com//MacleansNigeria to find out more about the promo.
_________________________________________________________
Sponsored Content