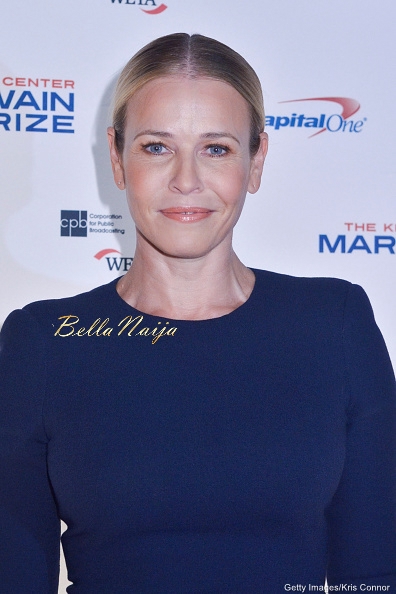 In an interesting chat with Esquire magazine, TV personality Chelsea Handler shares an experience she had in Atlantic City a few years ago that convinced her that convinced her that comedy legend Bill Cosby is guilty of the rape allegations he has been receiving for the past few weeks.
Posing naked on the cover, Chelsea Handler tell Esquire that Bill Cosby once invited her to his hotel suite. She said:
"Not poor guy—he tried to Cosby me. Oh, I was in Atlantic City playing, doing stand-up, and he was doing stand-up in Atlantic City in the same hotel, and at like three o'clock in the afternoon, someone from the hotel came down and said, "Oh, you know, Mr. Cosby would really like to meet you up in his hotel suite." And I thought, That's really weird. This was like ten years ago. And I said, That's really weird. I don't want to go alone. I go, I don't know him. So the three guys I was with—thank God these guys were with me. One was filming and one was like a producer; we were filming something— I brought them up with me to his room and thank God I did, because now I know what would've happened if I went up there alone. And I forgot about it when all the stories about Bill Cosby came out. I was like, I didn't even think of it. Then my friend texted me the other day saying, "Do you remember that night we went up to, or that afternoon we went up to Bill Cosby's and you were so freaked out you made us come with you?" And I said, Yeah, and he said, "Hello! You could've been one of his victims if we weren't there." And I went, "Oh my gosh . . ." Yeah, so yeah, he's guilty… I think it's pretty obvious now."
Chelsea Handler appears on the cover with Nick Offerman and the two of them go totally naked in this brand new spread for Esquire magazine's April 2015 issue.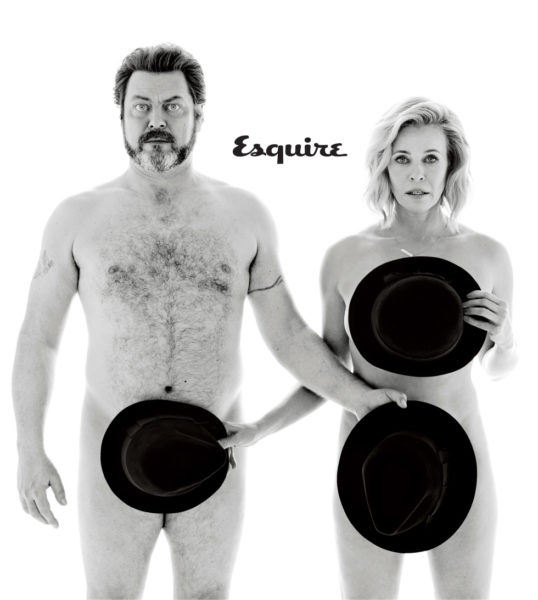 Photo Credit: Esquire Magazine | Getty Images/Kris Connor