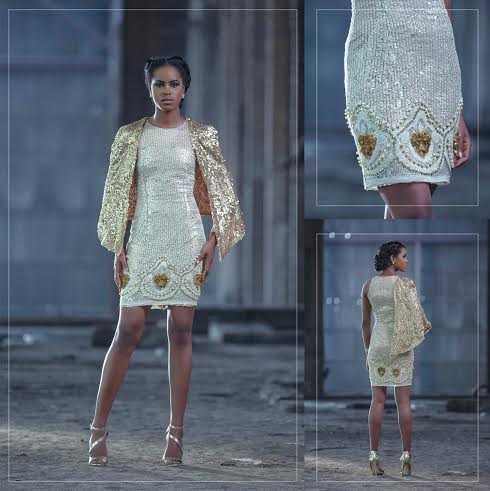 Ah, there's nothing like starting your day off with a lookbook filled with glam!
Nigerian womenswear designer, Ejiro Amos Tafiri (EAT) has released a lookbook for her latest collection – "Rustic Fairytale" which made its first debut at the Lagos Fashion & Design Week 2014.
The story behind the collection is a magical one – it narrates a story of femininity, with characters displaying daring but effortlessly fluid and dreamy silhouettes. The intricate detailing on the pieces embody romantic elements brought to life with hues of white, gold, and a plot twist delivered with the introduction of mysterious black.
The EAT brand brings enduring aesthetics of classic elegance with a mission of arousing your fascination with whimsical forms, delicate applique and sheer illusions.
See the collection below;
Photo Credit
Photography: Emmanuel Oyeleke (Instagram: @EmmanuelOyeleke)
Art Direction: Diana Ubah (Instagram: @Deatxoxo) | Ejiro Amos-Tafiri (Instagram: @EjiroAmosTafiri)
Stylist: Ify Onyido (iolastylist) (Instagram: @IolaStylist)
Makeup: Jaga Beauty (Instagram: @JagaBeauty)
Model: Nikki & Uju
To find out more about Ejiro Amos Tafiri, visit their website: www.ejiroamostafiri | Follow them on Instagram: @EjiroAmosTafiri | Visit their store at No 3, Ribadu Road, off Awolowo, Ikoyi, Lagos