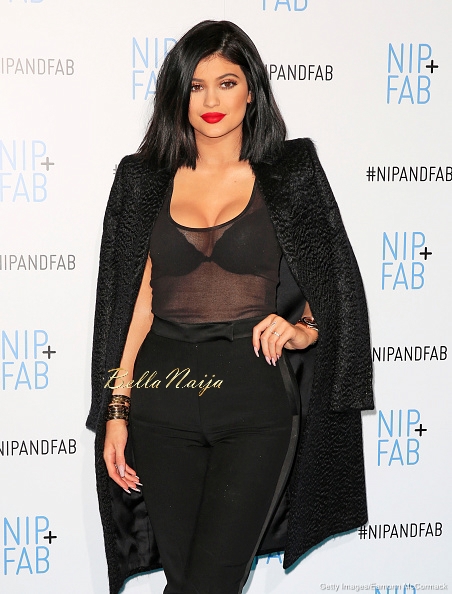 It looks like while Kylie Jenner's lip fillers may have gotten her noticed, they are putting her at some serious risks. A few days ago, the reality TV star admitted to having lip fillers injected in her lips in an interview. See Here If You Missed It.
Lip Filler expert – Lee Garret told Femail in an interview that having cosmetic surgery done before the age of 21 is very risky and could lead to complications as the reality start grows older. He also stated that Kylie has probably had 'too much done' to her lips already and could end up with 'wonky lips' or a number of other side effects that could be permanent.
According to Lee – "Having cosmetic surgery at any age below 21 is inadvisable, since your body is still growing and changing, therefore you'll never be sure about what the long-term results might be." "Kylie was born with naturally small lips and I do feel that she should have waited before having this particular treatment."
He further stated that lip fillers usually contain substances like collagen, hylaronic acid which will eventually break down over a period of 12 months, after which they need to be re-injected. But according to reports, Kylie has been getting re-injected every 3 months which is way too much.
Lee concludes that possible side-effects of the excessive fillers include bruising and bumps, an asymmetrical appearance where the upper lip becomes permanently bigger than the lower, swelling etc. "I think her lips were far more pleasant to look at before she had had fillers." "Her lips are far too big now. And remember I am looking at these with my professional eye." "I'm not agreeing that he should have done the treatment at all, given her young age. She is not mature enough to make a balanced medical decision."
***
A lot of teenagers make life-changing decisions without even knowing it. We just hope this doesn't go south for her.
If your child wanted to have cosmetic surgery done at 17 would you let them?
Photo Credit: Getty Images/Eamon M. Cornack