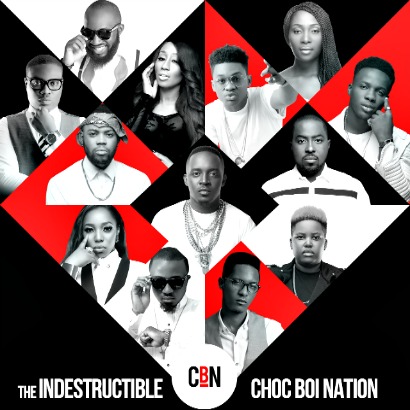 BN Music lovers, we've teamed up with the duo at Should You Bump This, and we'll bring you a special album review of music from some of your favourite Nigerian musicians. Sho and Tunde are seasoned music heads and together, they give their insightful and witty take on the chosen album and artist.
***
Brymo left, Jesse Jagz left, Jesse Jagz came back, Choc City merged with MI's Loopy Music, Audu Maikori retired and Chocolate City became Choc Boi Nation. The Indestructible Choc Boi Nation album features the new artistes and the old heads  – M.I, Ice Prince, Jesse Jagz, Milli, Koker, Dice Ailes, Loose Kaynon, Nosa, DJ Caise, DJ Lambo, Victoria Kimani, Pryse, Ruby Gyang. The producers on the album include – Jesse Jagz, Reinhard, L37, TMXO, Tunday, Teck-Zilla, Nosa, DJ Caise, CKay.
The album is available on ITunes
1. Summer Time feat Ice Prince, M.I, Jesse Jagz
@whoistunde: Dope song, everyone came correct. If Naija had summertime, this would be the soundtrack
@Showontstop: Yeah, we already spoke about this HERE, when the song came out but I still got ish to say
T: *sings* say something i'm giving up on you
S: This version has no Loose on it. 2nd, what am I doing listening to a clean version for.. when there was a curse word every 5 second on Zamani's verse?
T: Keep Lagos clean?
S: Not only are they trapping Gemini Project now they trapping Loose' verses? #UnleashTheBeardNah
T: With time
2. Do Something featuring Koker
T: My favourite song on the album
S: Hmmmm.. This song? On this album? Like out of all the 15 tracks?
T: At first I was like 'Brymo replacement' but this here is a good Juju song.
S: Your first instincts were right
T: I get, it should have been like a bonus track or placed at the end
S: It should have been on a "who wants to sing like Brymo" album
T: Koker still killed it. I'm in support of shooting a video for it
S: Although it's catchy and would be awesome at parties with 504s parked outside…I can't hear past the Brymo replacement.
3. Drank feat. DJ Lambo, Milli and Dice Ailes
T: Mustard on the beat, Chris Brown on the chorus and Dj Khaled the hype man
S: This is a good song if I had no idea who Chris brown, Drake or Kid ink were, because the originality showcased on this song is zero yo!
T: The song is not bad. Just sounds like something Mustard gave them
S: Should have just named the song Xerox
T: Crl + C then Crl + V?
S: Yeah…can't stomach the gimmick. Lambo still the only Naija DJ that knows how to talk on tracks sha
4. Bass feat. Koker and Ice Prince
T: I'm convinced Ice Prince already has verses and flows like this on his phone
S: Hahahaha! True talk. Ice been milking this style since 2012.
T: I don dey tire. I need rapping Ice
S: Yeah. I skip this easily
5. Oh No feat. Dice Ailes
T: Last verse by the kid Dice was fire though
S: When they gave us "Barack Obama" intro. I was like this song gonna be all fire…ended up being another gimmick song. Originality is hard to come by now?
T: Kid prolly just rolled the dice and chose some styles…Get it?
S: Yeah…that one bar from you hotter than everything on this record
T: Hahaha
S: Dude sounds like a fresh Yung6ix and Yung6ix sounds like a razz Lil Wayne. This photocopying is getting long.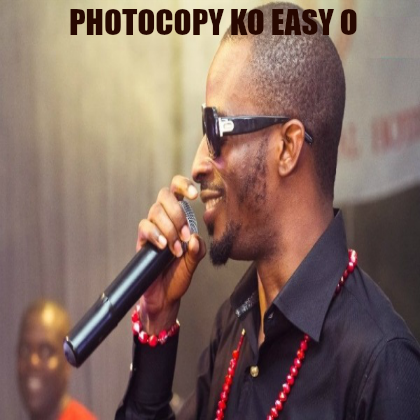 6. Go Hard feat Loose Kaynon, Ice Prince and Milli
T: All hail Reinhard for this beat. Sick production
S: Duuuuuuuuude! 20 Hawaiian volcanic eruptions yo!
T: I don't know about 20
S: 19 then…not a volcano less. Best jam on this tape!
T: For you
S: Only my opinion counts here tho. Loose on his lyrical 1s and 2s
"I'm too on I don't even need a mic check/Shine when I walk, Billy Jean Mike's step/ Straight flexing, Biceps, Triceps/ Only thing turning me on now is nice Cheques"
T: He doesn't have a wack verse yet
S: Even got Ice on his vintage ish. Solid jam.
T: No lies.
7. Ricochet feat. Pryse
T: I love this beat by Teckzilla
S: Probably the only Pryse jam i can listen to begin to end.
T: I still think she needs to be more lyrical
'I'm going in like they let me in, I'm gon win like they let me win"
S: Don't know about solid but it's aight. She Try
"Ok you just dey vex cos ur yansh flat"
S: Pryse is rapping about flat asses?
T: Flat ass is relative…But this good jam is not
8. Loving you feat. Victoria Kimani and Ice Prince
T: Weak song, weak lyrics from Ice Prince. This was probably before he met Jay Z
S: Hahahhahaha
T: He just lost me after 'shobedoo' part
S: Kimani needs songwriters mehn. Her voice is decent enough to be making hits. This is flat
9. Love is calling feat. Nosa
S: *yawnnnnnnnnnn*
T: Nosa is smooth
S: And boring
T: I don't blame you because you are deaf
S: Deaf to boring songs
T: I love it. The 'la la  lala' part sounds like the Nokia ringtone or is it just me?
S: Don't ask me. I would be lying if I said I know what this song sounds like after 1.34seconds.
T: Hater.
10. Loose Soul feat. DJ Caise and Ruby
T: Good song. Not just my type of song
S: One of the two best records on this album. House records are fire. Ruby is the best singer on CBN.
T: No arguments there. Her voice is like honey
S: Caise needs to do more records like this…and stay away from Terry G and that nonsense.
T: Hahaha.
S: So you gonna name a song 'Loose Soul' and not have Loose on it?
T: Conspiracy Theory loading…
S: #UnleashTheBeard
11. No More feat. Ruby Gyang and Jesse Jagz
S: Ruby the Queen
T: Jagz the greatest
S: Dope ass record! Her vocals are pure fire! Ruby should be a good girl and write one of these records for Kimani
T: And much more
S: Jagz just blessed her with the cherry
T: I see what you did there.
S: Me no even see wetin I do there o.
12. Heart Felt feat. Milli and Koker
T: I'm sold on this Koker guy. I love this song
S: Hmmmm
T: Koker does justice to the chorus…Milli handles the rest in fine form
S: Hmmmm well, song sounds cool but whose style is Milli singing with this time?
T: He'll find himself eventually.
S: Sha another style. One day we gonna be able to tell who he is.
13. 3rd Mainland Bridge feat. M.I and Moti Cakes
T: C Kay with the super production, Moti with the Young Thug flow and M.I with the barsss, so many dope lines
S: I fux with this. Moti's adlibs are mean! Production got bounce! M does his thing.
T: So now it's not copy copy?
S: He takes a style not the voice, style and accent. I mean those other guys bite all the way down to the State of origin, LGA, and Next of Kins.
T: Ok
14. Suite 99 feat. Jesse Jagz and Ice Prince
T: Reminds me of the greatness on Vol 1. Thy Nation Come
S: Jesse the greatest..but you already knew that.
T: Baba sabi
S: Ice sabi as well. They bounced off each other well. Were they still recording tracks while he was away? Chemistry solid.
T: Sounds like something that didn't make the Vol 1 cut because of the differences they had then.
S: Ice has sounded dope on every song Jesse been on. Jagz probably brings out the best in him. He should allow Jagz produce his next project
T: Wishes
15. Restoration feat. Jesse Jagz, Milli and Moti Cakes
S: They let Jagz tell his story
T: And he did it well. Good way to end the album.
S: Agreed. All 3rd verse!!!
T: Dope stuff
S: Mehn, the beef was real o. I will soon stop talking to you soon too.
T: Are you my brother? Go ahead
Verdict
S: CBN houses some of the best Naija acts and #TICBN just showcases their talents. Like a basketball team, They have a strong starting five ( M.I, Ice Prince, Jesse Jagz, Ruby Gyang and DJ Caise), a good 6th man (Loose Kaynon), nice bench players (DJ Lambo, Moti Cakes) and a couple D League players that should be traded but wetin concine me
T: The different styles showcased on this album is something that really worked for me, the vets held their own and the new comers were solid. The Indestructible Choc Boi Nation album is pretty decent. Whether Choc City has the ability to cater for 13 artistes, only time would tell
3.3/5 Wraps